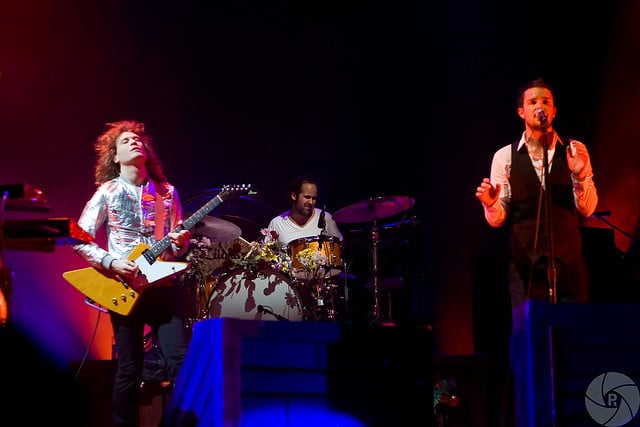 The Killers performed their new Christmas song 'Dirt Sledding' on Jimmy Kimmel yesterday evening. They also performed one of their previous Christmas songs 'Joel the Lump of Coal' on the show.
It is a tradition for The Killers to release a Christmas single, with their latest effort being the tenth time that the band has released a Christmas single. This is even while Brandon Flowers is currently promoting his new solo album.
The band announced that all proceeds from sales of the single will go to RED, a global Aids charity, as it has done for the previous Killers Christmas single releases.
The Killers performed the two Christmas singles 'Dirt Sledding' & ' Joel the Lump of Coal' on Jimmy Kimmel. The host introduced the band as he was wearing a Santa Claus outfit, with The Killers also wearing their own festive attire.
Killers frontman Brandon Flowers recently said that the band are in the early stages of recording a new album. Flowers said "We're writing – we're in the early stages. When you get older you get more accustomed to doing it and it gets harder in a way."
Flowers added that "It's easier to write a song and finish a song now, than when we used to really slave over it and the songs would be too long or we don't know exactly what we're doing."
Photo Credit: Phil Romans