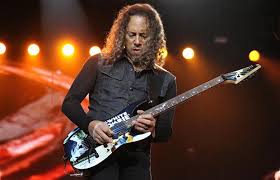 Last week Metallica guitarist Kirk Hammett got onstage and performed live with his former band Exodus.
The set took place during Kirk's own horror-themed festival, Fear FestEvil, at the Regency Ballroom in San Francisco, California, an event that also featured gruesome exhibitions and horror screenings amongst all the music mayhem.
Hammett teamed up with his former band to perform "Piranha" and a cover of Blue Oyster Cult's "Godzilla" During their set at The Regency Ballroom; the guitarist was a member of Exodus before joining Metallica in 1983.
The three-day Fear FestEvil featured vending, live music, "Kirk's Crypt" private tours, panels, signings, and special guest appearances.
You can see the performance of Kirk with Exodus here