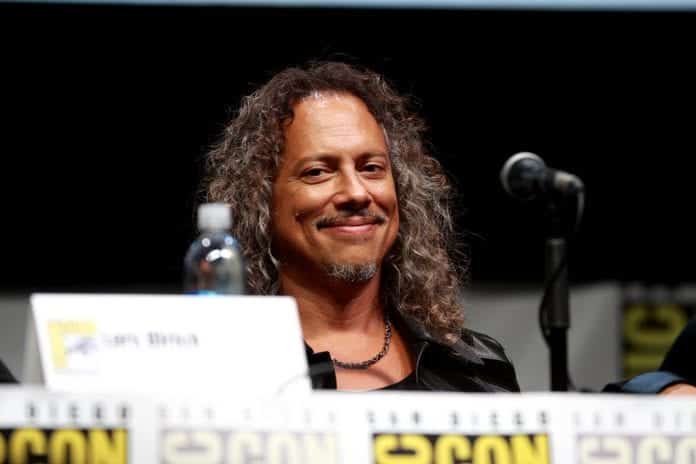 Metallica's Kirk Hammett says that the band had big ambitions for the Black Album right from the start.
Hammett said this when interviewed for the new issue of Classic Rock.
The band had "sights set on bigger things" – Hammett
On the album itself, Kirk Hammett said that the band had huge plans for this record, right from the get go.
"We didn't want to go down the same progressive, demanding route", he said.
"We had our sights set on bigger things. You have to remember that there had been some mega albums around that time – Bon Jovi, Def Leppard, Bruce Springsteen… eight million, nine million copies sold. And we wanted that. It's obvious. We wanted a Back In Black".
"Just f*****g appeared"
"The Enter Sandman riff was a riff that just fucking appeared", Hammett claimed. "It was three o'clock in the morning, I was sitting in my bedroom. People say: 'What were you doing up at three o'clock in the morning?' Well, I was still in tour mode".
Kirk continued, "I was playing my guitar, I had nothing else to do. I'd been listening to Soundgarden all day. They were a band that me and James loved. I was just trying to capture that feel. That riff came out of nowhere".
Hammett also added, "The best parts of that album kind of just wrote themselves," he continues. "Solos and music and songs felt like they just appeared out of nowhere. It was like the universe handed it to us on a platter. Not like the first four albums".
"It's a cultural force in itself", he declared. "As much as modern culture changes and morphs, there's something within that album that continues to resonate around the world. And I mean the world, because it's big everywhere".
The Black Album
This month marked 30 years since The Black Album came out.
Released in 1991, the album sent Metallica into the super league. It sold 35 million copies worldwide, with 17 million sold in the US. The album debuted at number 1 in the UK, US and Germany.
To mark this milestone, Metallica have been included a special reissuing along with a release of limited edition trainers. More here and here.
On top of this, Metallica also announced that a special eight episode podcast will be launched soon, with band members speaking about the makeing of the Black Album.
"Coming soon… The Metallica Podcast! We're starting with eight episodes taking a look behind the scenes at "The Black Album", the band tweeted last week.