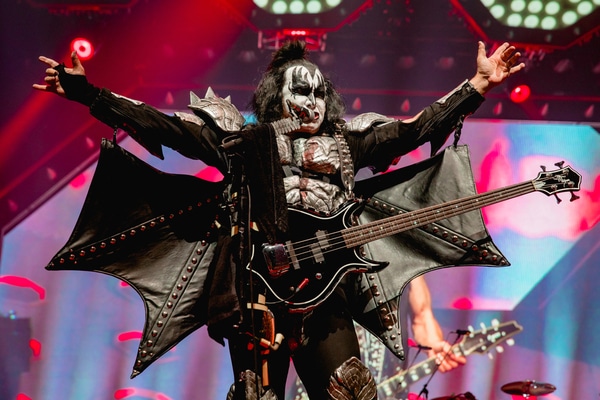 KISS bassist and tongue slinger, Gene Simmons has announced that he is willing to accept cryptocurrency to sell his luxury Las Vegas estate. Simmons initially listed the property last year for a cool $14.95 million, only to drop that sum by $1.9 million.
This modern, desert mansion is located in the prestigious community of Ascaya, just south of the Las Vegas Strip. Boasting breath-taking views of the Las Vegas valley and the Strip, with a private orchard adjacent to the house, this property is unlike anywhere else in Southern Nevada. The mansion sits high above the valley and comes with a nearly one-acre two-parcel property that expands more than 11,000 square feet.
In a bid to sell his estate, Simmons revealed he is willing to accept Bitcoin, Ethereum, Litecoin, Uniswap, Polkadot, Litecoin, Aave, Try. According to The Music Universe, the KISS member would even accept a combination of those cryptocurrencies to purchase the home.
In a statement shared yesterday by Blabbermouth, Simmons said he has "been an outspoken proponent of cryptocurrency from the beginning! It is the future of money, and it just makes sense to offer interested parties the option of using cryptocurrency to purchase the estate."
Situated in Henderson, 16 miles out from downtown Vegas, it is described as a "distinctive and modern estate offers unparalleled artistic beauty, unrivalled anywhere in the Las Vegas Valley."
Purchasing his property for $10.8 million in 2021, the KISS bassist is seeking to make around a cool $2.7 million profit in one year! Simmons gave his reasoning for wanting to sell in an interview with The Wall Street Journal. He and his family did not stay in Vegas too often, and they much preferred their other homes in California and Canada. "They're not fans of 115-degree weather. How many houses do you need anyway?"
The founding KISS bassist and vocalist, known in band lore as "The Demon", sold his Californian house for $16 million just last year. You can check out his latest pad for sale here, or catch the walk-through tour guide below.
https://www.youtube.com/watch?v=orN5oEeT0RI