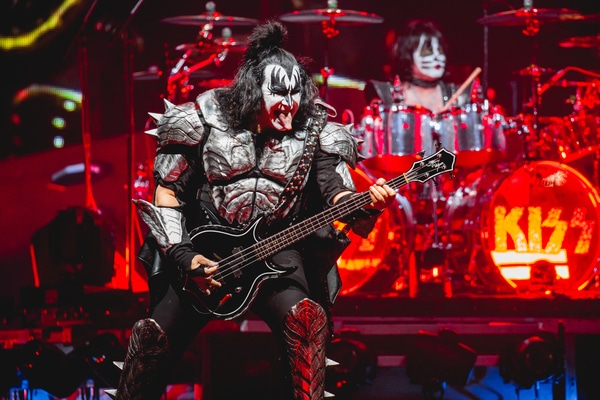 KISS will no longer be going ahead with their planned Las Vegas residency.
The rockers were set to embark on their second residency in Vegas, but poor ticket sales are believed to be behind the cancellation.
KISS were meant to begin their residency at the Zappos Theater at Planet Hollywood Las Vegas Resort & Casino on December 27th. The residency would have run until February 2022.
Back in 2014, the rockers enjoyed a successful Vegas residency at The Joint at Hard Rock Hotel and Casino.
It appears a followup residency has been scuppered, as Ticketmaster has now contacted fans who purchased tickets to inform them that the shows have been cancelled.
An official statement has yet to be released by KISS themselves regarding the cancellations.
A spokesperson for the Zappos Theater assured fans who purchased tickets that they would be contacted by ticket sellers regarding refunds.
In an interview with Rolling Stone earlier this year, KISS frontman Gene Simmons expressed enthusiasm for the residency, emphasising its financial rewards.
"There are matters of the heart and then there are matters of the pocket and it's nice when they both converge," Simmons said. "So it's a very nice payday. [The shows] pay well and that's reason enough. But it's also easier for the band because you don't have the wear and tear of travelling."
Due to the confines of the Zappos Theater, the show would have been a scaled back version of the bombastic shows KISS fans are accustomed to.
"Anything that's got a roof on it, we have to scale back the pyro or we'll blow the roof off, literally," he said. "But we are planning lots of surprises for Vegas, which nobody's seen yet. We're in the middle of putting that together."
KISS are currently on the 10th edition of their KISS Kruise, which sees the band perform a short residency aboard a cruise ship.
It has just been announced that next year's KISS Kruise will depart Los Angeles on October 29th anc culminate in Cabo San Lucas, Mexico on November 3rd.
IT'S OFFICIAL! Yesterday, we announced @TheKISSKruise XI during our sailaway show! We'll be sailing out of Los Angeles to Cabo San Lucas and Ensenada, Oct. 29-Nov. 3, 2022. This will be one for the books! STAY TUNED FOR MORE DETAILS 🤘🏼#KISSNAVY pic.twitter.com/2TsNH4skxt

— KISS (@kiss) October 31, 2021
Earlier this month, Simmons escaped injury when a descending platform malfunctioned during a live show in Tampa, Florida. Simmons was being lowered to the stage on the platform when it came to a sudden stop and began shaking. The singer/bassist maintained his balance and avoided falling from the platform.
"We are committed to you and to putting on the greatest on Earth…even though it's not always as safe as we want it to be," Simmons wrote on Twitter.
We are committed to you and to putting on the greatest on Earth…even though it's not always as safe as we want it to be. This happened 2 shows ago… pic.twitter.com/yd3Z3JioMD

— Gene Simmons (@genesimmons) October 11, 2021
KISS's Paul Stanley said he expects the band to retire from live shows in 2023, due to the challenges of hitting the road at their now advanced age.
"You can play beat the clock, but ultimately the clock wins," he said.