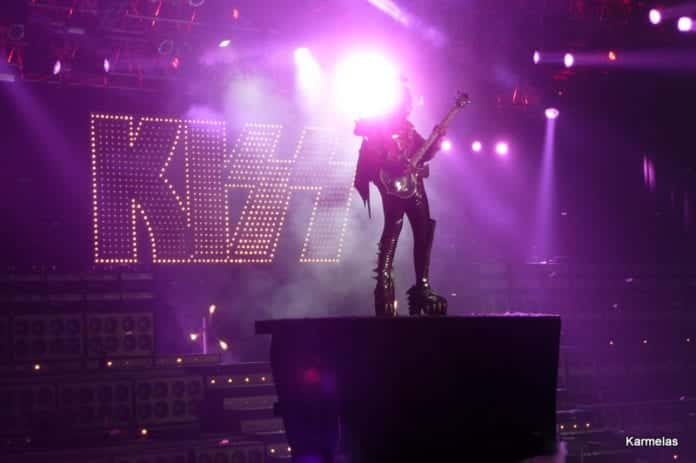 Kiss has donated a signed guitar to the Royal Manchester Children's Hospital to be auctioned to raise some much needed funds for the hospital.
Kiss was due to play in Manchester this summer, but had to cancel the show after the terror attack at the Ariana Grande concert in May. The attack left 22 dead and many injured, including children. The band, who couldn't perform their scheduled show at the arena due to structural damage, said that the attack devastated them and that they wanted to do something to help the city.
Kiss singer and guitarist Paul Stanley decided to donate his Ibanez PS120 to the Children's Hospital which cared for many of the victims of the terror attack. Stanley had planned to play the guitar at the cancelled Manchester show. Speaking of the donation, Stanley told the Manchester Evening News "Royal Manchester Children's Hospital's incredible work with children was never more evident than after this horrific event."
Stanley continued, "We are humbled to be able to give something to support them in their ongoing efforts. Knowing that the money raised will go towards purchasing life-support ventilators, our prayers and wishes will continue to help both those affected directly by the attack, and beyond. This night will give everyone an opportunity to do their part in raising as much money as possible for an incredibly worthy cause."
The auction will take place at the Red Sea Pedestrians 10th Anniversary Charity Ball in aid of Royal Manchester Children's Hospital on 17th of March 2018. The successful bidder will also receive four VIP tickets to a Kiss concert anywhere in the world.
Speaking about the donation, the chairman of Royal Manchester Children's Hospital Maurice Watkins said "We're delighted that Kiss has donated this incredible prize to be auctioned at the RSP charity ball and want to thank them for their tremendous generosity."
*Written by Orla O'Connor
Photo Credit: sounscaped