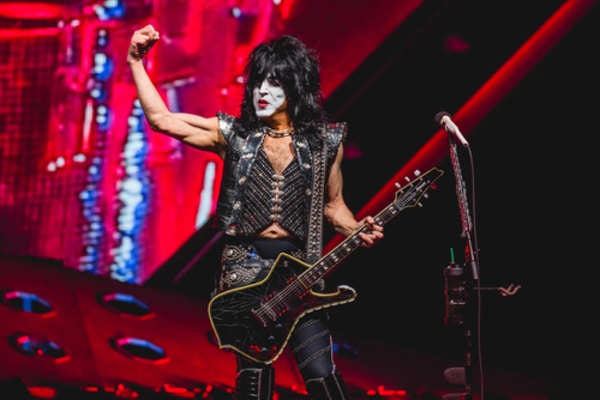 KISS' Paul Stanley was recently spotted in public notably without a face mask only days after testing positive for COVID-19.
The guitarist was seen entering a West Hollywood Hotel last week (August 31) sans face covering.
In addition to California's recently introduced mask mandate, the Los Angeles Department of Public Health has advised that individuals who test positive for COVID-19 should self-isolate for a minimum of ten days.
Paparazzi snapped the photos of Stanley only five days after he announced that he had contracted the virus – which led to KISS being forced to postpone a Philadelphia gig. In a statement the band told fans that they'd done their best to adhere to public health guidelines to keep everyone safe while on the road.
"Everyone on the entire tour, both band and crew, are fully vaccinated," the statement read. "The band and their crew have operated in a bubble independently to safeguard everyone as much as possible at each show and in between shows. The tour also has a COVID safety protocol officer on staff full-time that is ensuring everyone is closely following all CDC guidelines."
Shortly after Stanley's mask-less appearance in West Hollywood, the rocker tweeted that he would be "staying clear of people for a few more days." He added, "Do I think my 'freedom' ever includes jeopardizing other people's health?… No, I don't."
KISS frontman Gene Simmons also recently tested positive for COVID-19, leading to the postponement of seven of the band's performances.
A statement posted on KISS' social media read: "KISS will postpone their next few tour dates. While Paul Stanley recently tweeted that he had recovered from COVID-19, Gene Simmons has now tested positive and is experiencing mild symptoms.
"The band and crew will remain at home and isolate for the next ten days and doctors have indicated the tour should be able to resume on 9th September."