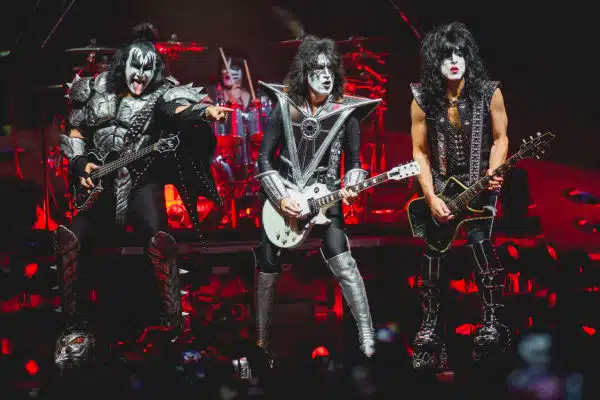 Would you like to listen to the article instead of reading it?
Gene Simmons and Paul Stanley, from rock band Kiss, are being sued by the family of a former employee who died from COVID-19, contracted while on tour with the band.
Rolling Stone has reported that the family of guitar technician Francis Stueber has filed a lawsuit against the band relating to wrongful death. Stueber worked as Stanley's guitar-tech for two decades.
The suit mentions a "failure to enforce or have adequate Covid-19 policies or procedures."
Simmons and Stanley are named as defendants, as is band manager Doc McGhee. Promotion giant Live Nation and the Marriott hotel chain are also named.
Stueber died in 2021 after contracting COVID-19 while working on Kiss' End of the Road Tour. He was found unresponsive in a Detroit hotel room after quarantining for two days.
The family filed the suit on Wednesday which states:
"As a direct and proximate result of the dangerous condition created by defendants, decedent suffered fatal injuries and plaintiffs suffered damages, including, but not limited to funeral and burial expenses, the permanent deprivation of the love companionship, affection solace, society, comfort, assistance, services and financial contributions, and moral support of decedent in an amount according to proof at trial."
The family also claimed that Mr Stueber was not seen by a medical professional despite being told by band manager McGhee that one would be arranged.
"Defendants, and each of them, whether through acts and/or omission to act, breached their duty to plaintiffs by their negligent production, operation, inspection, supervision, management and control over The End of the Road Tour that ultimately resulted in the death of decedent," the suit said.
Road crew working on the tour told Rolling Stone soon after Stuber's death that they believed a lack of COVID-19 safety protocols was at fault.
Kiss issued a statement at the time in response:
"We are profoundly heartbroken at the loss of Francis, he was a friend and colleague of 20 years, there is no way to replace him.
"Millions of people have lost someone special to this horrific virus and we encourage everyone to get vaccinated. Please protect yourself and your loved ones.
"Our 'End Of The Road' world tour absolutely had COVID safety protocols in place that met, but most often exceeded, federal, state, and local guidelines," the band said.