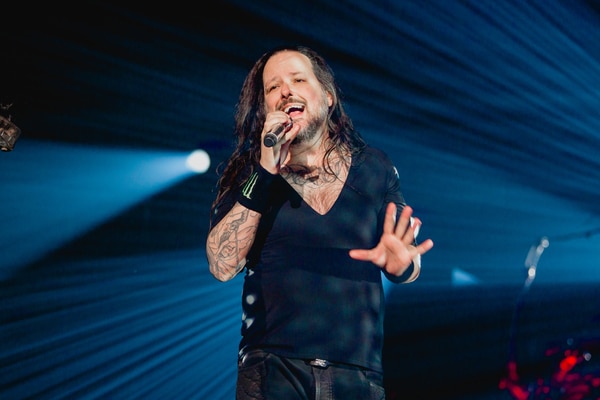 Korn's guitarist Brian "Head" Welch has said that the band's frontman Jonathan Davis is "still struggling with Covid after-effects" after he tested positive for the virus earlier this month.
The band were forced to cancel six shows and two others outright following Davis' positive test.
The band also released a statement via social media.
"Unfortunately, there has been a confirmed COVID-19 case within the Korn camp", they said.
"The safety of our artists, crew, venue staff, and fans are our top priority, so we must postpone the show tonight. We're deeply sorry for this last minute news, but please hold on to your tickets while we work to get your rescheduled date sorted ASAP with Live Nation and the Pavilion at Montage Mountain. Thank you for your understanding, and stay safe out there. We'll be back soon".
Korn frontman Davis "having a mental battle" – Welch
Davis tested positive for the virus on August 14. The band returned to the stage on August 27 for a gig at the Hollywood Casino Ampitheatre in Tinley Park, Illinois.
For the majority of the set, Davis sat on a throne on stage. Despite feeling "very weak", Davis also told the audience that he "refused to f*****g cancel".
Speaking on his bandmate's health in a video shared on the band's Instagram account, Brian Welch said that Davis is still battling with Covid-19 side-effects having testing positive for the virus.
"He's physically weak and having a mental battle. And any type of love, light and energy you can throw at him – prayers, all of it", Welch said.
"We have shows coming up, so all of you guys, check the dates", Welch added. "Whatever show you're going to, throw him some love and energy, man – he needs you more than ever".
Korn will continue to hit the road in September, before the tour concludes on October 3.
For this tour, the band are touring with Suicidal Tendencies' bassist Ra Diaz. Diaz replaced Reginald "Fieldy" Arvizu who had announced that he was taking time away from the band in June.