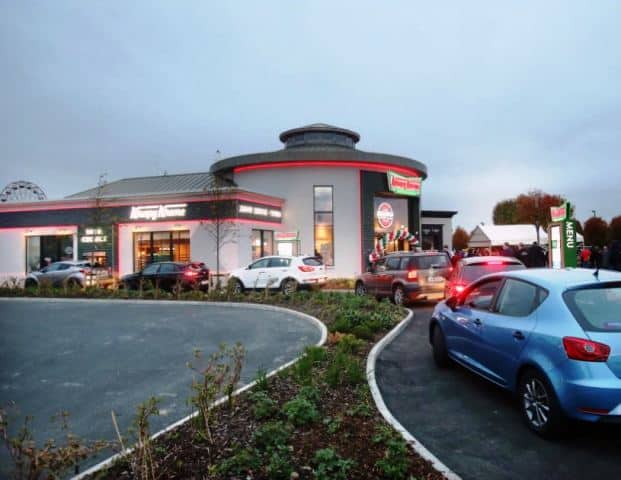 Enough already!
Incredible online footage of 'honking cars' in the Blanchardstown centre surrounding the brand new Krispy Kreme 24-7 drive-thru have caused local unrest for the poor inhabitants surrounding the west Dublin shopping complex.
They have had enough and have expressed their disquiet and unrest through the usual channels and their message has been heard.
The new branch of the US doughnut chain, which opened last Wednesday has received an extraordinary welcome with massive demands for their freshly made sticky treats.
Krispy Kreme has confirmed the closure of their 24hr drive thru which will now be open between the hours of 6 am and 11.30pm.
The traffic management action team have been working night and day to examine alternative options in relation to late night queue management that allows customers to enjoy our doughnuts without impacting local residents.
There will also be ongoing discussions with Fingal County Council, Blanchardstown Centre Management, local Garda Traffic Corp and Community Liaison with regard to options for consideration and a commitment to working with Gardaí, Local Councillors and the Blanchardstown Centre Management to find a long-term solution that works for everyone.
Richard Cheshire, CEO, Krispy Kreme UK & Ireland.
"We anticipated a warm welcome for Krispy Kreme in Ireland and have long wanted to open a store here, but the response has been way ahead of our most optimistic expectations. For the customers coming into our store in Blanchardstown, the smiles and joy have been great to see. For the most part too, our drive thru has been a success. But we know that the late-night noise has been an upset for our neighbours. Some customers have been beeping their horns and disturbing families in nearby apartment complexes. Most importantly, we are saying to our neighbours, we've listened and we're making changes immediately."