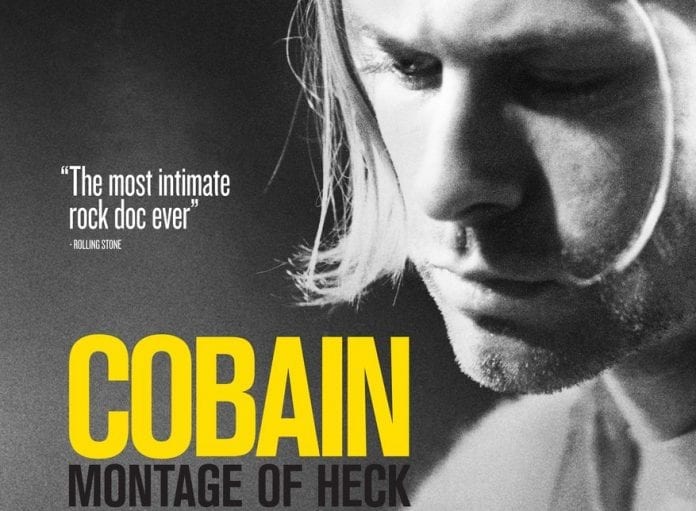 The Kurt Cobain documentary 'Cobain: Montage of Heck', is set to be released in cinemas before it premieres on HBO in May.
'Montage Of Heck' is going to be shown in over 72 countries from April 10th.
The movie is named after the singer's recently unearthed mixtape, and it has the approval and support of the Cobain family.
Courtney Love told Dave Letterman: "It's very moving. I've seen it now three times, and I'm probably not going to see it again. It's too much. People were in tears, the director, Brett Morgen, did a fantastic job on it. I trusted him completely and gave him the keys to my storage and just said, 'tell the truth.'"
The fully authorised piece has been in the works for years and is produced by Kurt's daughter Frances Bean.
Rolling Stone describes the film as a "Personal, no-holds-barred portrait of Nirvana's leader via his own words."
Director Brett Morgen explains that eight years of preparation have gone into the film. "I started work on this project eight years ago," he said in a press release. "Like most people, when I started, I figured there would be limited amounts of fresh material to unearth."
"However, once I stepped into Kurt's archive, I discovered over 200 hours of unreleased music and audio, a vast array of art projects (oil paintings, sculptures), countless hours of never-before-seen home movies, and over 4,000 pages of writings that together help paint an intimate portrait of an artist who rarely revealed himself to the media."
The Nirvana frontman has been the subject of many films, including Gus Van Sant's 'Last Days' about the singer's final days before his suicide and a controversial 1998 Nick Broomfield documentary 'Kurt & Courtney'.
The DVD release of 'Cobain: Montage Of Heck' is expected sometime in November 2015.
Watch the trailer below.