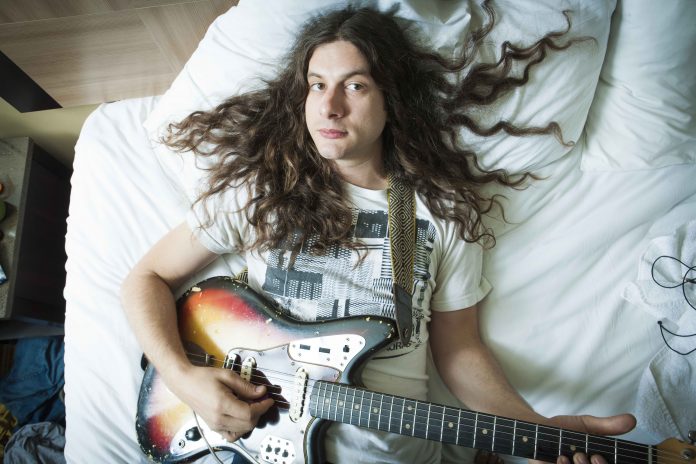 Philadelphian guitarist and songwriter, Kurt Vile has announced a run of European solo shows this summer, including a date in Vicar Street on June 12th 2020.
Tickets for €35.00 are on sale now with special guest Mike Polizze (Purling Hiss) due to perform as well. 
The first European solo tour by Vile in six years offers the opportunity to see one of the most celebrated, prolific and successful singer-songwriters of his generation in an intimate setting, performing stripped back renditions from his acclaimed catalogue.
This past October, Vile released a short documentary film directed by Ryan Scott titled (bottle back), that captures him camping out in the Catskill Mountains in upper state New York alongside fellow musicians/friends The Sadies and Matt Sweeney. The short film features a solo acoustic adaptation of 'Bassackwards', a performance of 'Check Baby' with The Violators, and a special version of 'Baby's Arms' featuring The Sadies.
Kurt  has been seen and heard across the late-night TV circuit (Colbert, Letterman, Conan, etc), from the Park Stage in Glastonbury, in session for Lauren Laverne and Mike Riley at BBC 6 Music, as an animated singing squirrel on HBO's Animals, as a roadie on Portlandia, and as an answer on Jeopardy. He has collaborated with artists including Courtney Barnett, J Mascis, Kim Gordon, Hope Sandoval, John Prine, John Cale, Warpaint and Cyndi Lauper, and has toured the world several times over. With hundreds of thousands of records sold and a day named in his honour in Philadelphia, Kurt Vile's Vicar Street gig promises to be a good one.
https://youtu.be/N8fbScZ7PVM
Vile recently celebrated the one-year anniversary of Bottle It In, his momentous eighth studio album. The record has been met with widespread acclaim from publications including The Times, The Guardian, Evening Standard, The Observer, Sunday Times, MOJO, Uncut, Q, NME and others.
"Behind the shaggy locks and purple haze, there's a clear-headed, big-hearted songwriter at work" – The Guardian ****
"There is a ruthlessly perfectionist streak lurking under that slacker exterior, which is why this sounds so good" – The Times ****
" "Vile's amiable and circuitous path to stardom reached another landmark" – MOJO
"An album to savour" – The Observer ****
"…a restless, rare spirit at the top of his game" – Q
 "Splendid stuff" – Sunday Times
 "80 minutes of ethereal indie rock" – Uncut (Best Albums of 2018)
"a deeply immersive and transporting album" – The Independent ****
"A riveting display of nuanced and intricate songwriting" – The Telegraph
A list of Kurt Vile's European solo tour dates can be found below.
29.5 Heimathafen – Berlin, Germany
30.5  Fabrik – Hamburg, Germany
31.5 Heartland festival – Kværndrup, Denmark
2.6 Islington Assembly Hall – London, UK
7.6 Muziekgieterij – Maastricht, Netherlands
8.6 TivoliVredenburg – Utrecht, Netherlands
9.6 Kulturkirche – Köln, Germany
10.6 De Roma – Antwerp, Belgium
12.6 Vicar Street – Dublin, Ireland