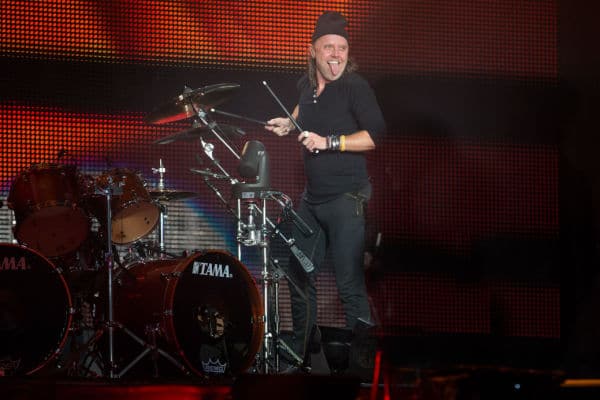 Would you like to listen to the article instead of reading it?
Metallica drummer Lars Ulrich has explained how the band came up with the idea of creating this 'Snake Pit' for their fans.
The 'Snake Pit' is a standing-only area built at the center of the stage, where a select group of fans can get that extra human-like concert experience.
According to Ulrich, the 'Snake Pit' holds between 900 and 1,200 people, subject to fire marshal rules.
This comes as Metallica are set to embark on a mammoth World Tour, which will include shows across European countries like France, Germany, Sweden, as well as two shows in England's Castle Donington on June 8 and 10.
The tour which begins with a show in Hamburg on May 17, will also see Metlallica take to the stage in Canada and their native US, promoting their latest album '72 Seasons'. 
⚠️ 72 SEASONS IS HERE! ⚠️

LISTEN NOW 🎧 https://t.co/JoINY2ObVR pic.twitter.com/2xLN5yq8C7

— Metallica (@Metallica) April 14, 2023
Metallica Drummer On Stage That Is "shaped like a diamond"
Speaking to Zane Lowe, Lars Ulrich explained how this 'Snake Pit' idea came about.
"One of our managers back in New York in the late Eighties/early Nineties [had] the idea that when you would go to a restaurant that the best seat in the restaurant was actually not in the house — [it] was in the kitchen", Ulrich said.
He continued, "So in crazy, cool restaurants, if you could somehow get into the kitchen and eat in the kitchen, you were in there where all the action was. So the idea that came out of that for that Snake Pit on the 'Black Album' tour was basically to be in the middle of the stage". 
"So we had a stage that was shaped like a diamond, and there were 30, 40 spots in the middle of that stage. Radio contest winners, friends, family, a few crazy metalheads from around the audience would end up in that snake pit, and they would be onstage with us. And then it morphed". 
"Basically, for, I guess, 30 years now, the Snake Pit has been an integral part of at least a Metallica indoor show. And then in the stadiums when we've been playing outside, it's been sort of this extension of the stage. You've seen it, but they've never been, like, crazy big. There's been room for a couple of hundred here, a couple hundred there, whatever". 
Last month, Metallica also became the first band to release a music video for each track from their new album using sign language. Find out more here.