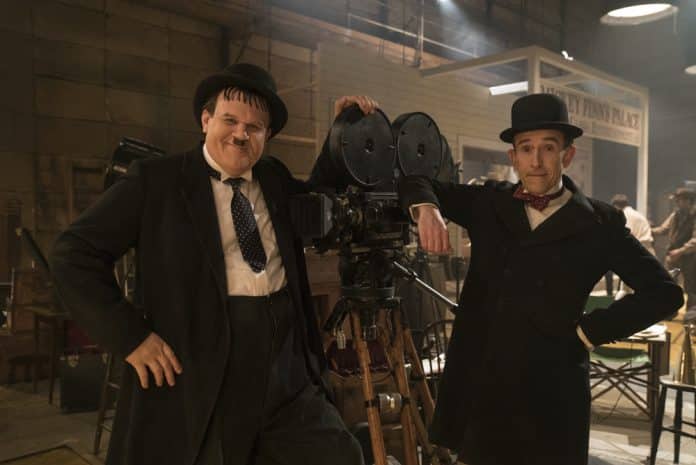 Stan & Ollie stars John C. Reilly and Steve Coogan visited Dublin's Olympia Theatre, where Laurel and Hardy performed for the final ever time, to discuss playing the comedy duo in their new film.
Stan Laurel and Oliver Hardy are widely regarded as the greatest comedy partnership in movie history. Between 1927 and 1950, they made over 107 film appearances (32 silent short films, 40 sound shorts, 23 features, 12 cameos), defining the notion of the double act with infectious chemistry and hilarious routines that seemed effortless but were honed down to the finest detail. The pair were part of the very few silent stars to survive and thrive in the sound era, adding wordplay to their comedy mastery.
The true story of Hollywood's greatest comedy double act, Stan & Ollie, has just opened in cinemas and sees them at the height of their fame in 1937, preparing to shoot a dance routine for their latest movie, Way Out West. The story then follows Stan Laurel (Coogan) and Oliver Hardy (Reilly) as they embark on a gruelling 1953 tour of Britain and Ireland in a bid to turn their showbiz fortunes around.
Directed by Jon S Baird, Stan & Ollie grossed £2.41 million during its opening weekend – easing past Oscar-tipped period drama The Favourite to take the top spot.
Steve has been nominated for Best Actor in a Leading Role at this year's BAFTAs while the movie has also earned a nominated for Best British Film. He says, "I'm pleased that the film has been acknowledged…John got a Golden Globe nomination and I've got a BAFTA nomination; it's nice that it's one for him and one for me. I've toured Britain a few times, and some of the theatres we shot in I have played in myself…there's something very special about musical hall theatres, I love being in them."
John C. Reilly says, "What makes Laurel & Hardy so special as a partnership is that they never split up; they spent their entire careers together. There's an eternal quality to their humour that really sets them apart. They relied on things that are eternal to the human experience."
Laurel and Hardy appeared at the Olympia in 1952 and then again in 1953.
Stan and Ollie is out in cinemas now.