Led Zeppelin has announced they have partnered with YouTube for an exclusive streaming event of Celebration Day, the concert film chronicling the band's historic live performance from the 2007 tribute concert for dear friend and Atlantic Records founder Ahmet Ertegun.
Celebration Day will be streamed in its entirely for three days only on the official Led Zeppelin YouTube channel, and will premiere this Saturday, May 30, at 8PM Dublin time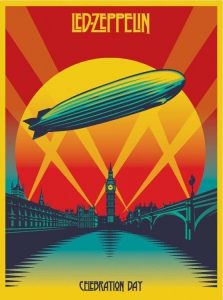 Led Zeppelin took to the stage at London's O2 Arena on December 10, 2007 for the band's first headline show in 27 years and one of the most wildly anticipated concerts in rock 'n' roll history, with 20 million people applying for tickets through a worldwide lottery.
Founding members John Paul Jones, Jimmy Page and Robert Plant were joined by Jason Bonham, the son of late Led Zeppelin drummer John Bonham, for a 16 song, two-hour-plus tour de force of the band's signature blues-infused rock 'n' roll.
The concert included now legendary performances of landmark tracks such as "Whole Lotta Love," "Rock And Roll," "Kashmir," "Black Dog," and "Stairway To Heaven." (Full set list below.) Both video and audio of the concert were released in 2012, earning both critical acclaim and commercial success around the globe and winning a Grammy® Award for Best Rock Album.
Click Here To View The Film Beginning At 8pm (Dublin time) On Saturday 30th May
Led Zeppelin Celebration Day – Set List
Good Times Bad Times
Ramble On
Black Dog
In My Time Of Dying
For Your Life
Trampled Under Foot
Nobody's Fault But Mine
No Quarter
Since I've Been Loving You
Dazed And Confused
Stairway To Heaven
The Song Remains The Same
Misty Mountain Hop
Kashmir
Whole Lotta Love
Rock And Roll