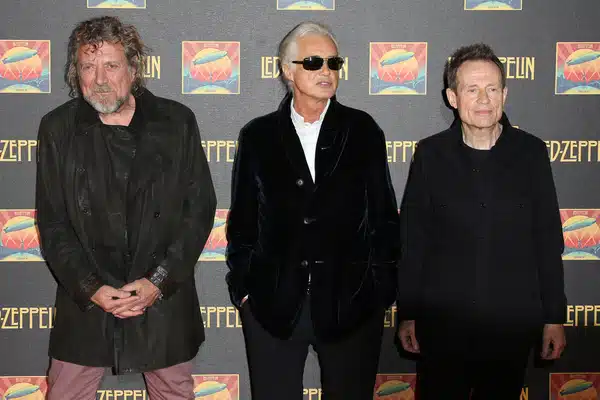 John Paul Jones has re-recorded Led Zeppelin's "When The Levee Breaks" which featured 17 musicians from around the globe.
The former Led Zeppelin bassist's cover was also recorded as part of the global music non-profit organisation Playing For Change as part of their Song Around The World initiative.
All profits from this song will go towards several organisations. These include American Rivers, Reverb, WWF, Conservation International and the Playing for Change Foundation.
This performance from Jones also included Congo musician Mermans Mosengo, Nigerian percussionist Sikiru Adepoju, Māori artist Mihirangi, and Sámi vocalist Elle Márjá Eira.
The video also includes Janes Addiction drummer Stephen Perkins. It also featured married couple Susan Tedeschi and Derek Trucks. They were part of the Tedeschi Trucks Band.
The song was first recorded in 1929 by Memphis Minnie and Kansas Joe McCoy. The track reflects the upheavel that followed by the Great Mississippi Flood two years ealier.
Led Zeppelin's cover featured on their 1971 record "Led Zeppelin IV". The band also celebrated 50 years since the release of that album last November. 
This latest recording also follows a string of collaborations as part of Playing for Change's Songs Around The World scheme.
Check out the performance below.
"Seems that little has changed" – Jones
John Paul Jones still very much feels that that song is still as relevent today as it was in 1927.
"It seems that little has changed since 1927, or even 2005 with Katrina", he said. "It's still a really powerful track, both musically and lyrically".  
These thoughts were also shared by the video's producer Sebastian Roberston. He also played guitar on the recording.
"Looking at 'When the Levee Breaks' through the lens of producing a song to raise awareness for key environmental organisations truly felt like a plea for climate justice", he stated. "The wailing guitars, harmonica, and vocals [are] all in harmony for Mother Earth".
Sebastion's father Robbie has featured on previous recordings, including collaborating with Ringo Starr on the track "The Weight".