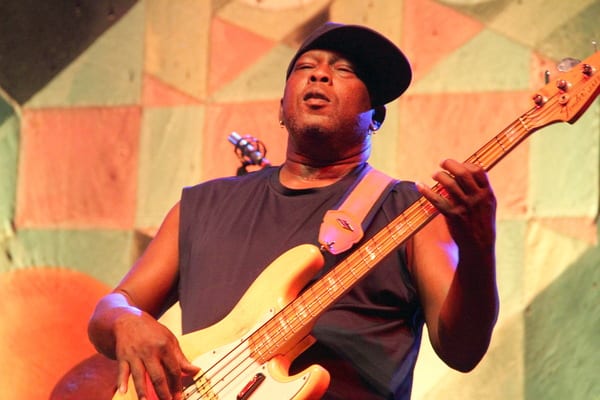 Best known as one-half of Jamaican duo Sly & Robbie, bassist and producer Robbie Shakespeare has passed away at the age of 68.
Shakespeare had been hospitalised in Florida following kidney surgery.
In the mid-70s, Shakespeare became interested in reggae production as the genre boomed in his homeland of Jamaica. Teaming up with drummer Sly Dunbar, the duo became the island's most sought after production team. Kin 1974 the duo formed their Taxi Records, their own production company and record label.
After a string of late '70s collaborations with Jamaican reggae star Peter Tosh, Sly & Robbie caught the attention of Grace Jones. She recruited the duo for her 1980 album War, Leatherette and would reteam with the pair for three further albums.
Shakespeare work with Grace Jones led to demand from other American and British stars. In the following decades he would collaborate with Bob Dylan, Jackson Browne, Joe Cocker, Sting, Joan Armatrading, Sinead O'Connor, Mick Jagger, Carly Simon, Cyndi Lauper, Serge Gainsbourg and more as both a bassist and producer.
Sly & Robbie released multiple albums of their own, right up to 2019's The Final Battle: Sly & Robbie vs. Roots Radics, which earned a Grammy nomination for Best Reggae Album.
Jamaica's Prime Minister Andrew Holness expressed his sympathies on hearing of Shakespeare's passing.
"The legendary bassist Robbie Shakespeare played a significant role in recording and producing albums for various Reggae artists including Bob Marley, Peter Tosh, Bunny Wailer, U Roy, Culture, Burning Spear among other big names," Holness tweeted. "When it comes to Reggae bass playing, no one comes close to having the influence of Robbie Shakespeare. He will be remembered for his sterling contribution to the music industry and Jamaica's culture. May his soul Rest In Peace."
"I am in shock and sorrow after just receiving the news that my friend and brother, the legendary bassist Robbie Shakespeare has died," said Olivia Grange, Jamaica's minister of culture, gender, entertainment and sport said in a statement. "Sly & Robbie took bass playing and drumming to the highest level as they made music for themselves as a group, and for many other artists locally and internationally. Robbie's loss will be felt by the industry at home and abroad. He will be sorely missed."
Throughout his career, Shakespeare collected 13 Grammy nominations winning twice for Best Reggae Recording for 1984's Anthem and Best Reggae Album for 1998's Friends.
In a 2020 list, Rolling Stone ranked Shakespeare at number 17 on a list of the greatest bass players of all time.