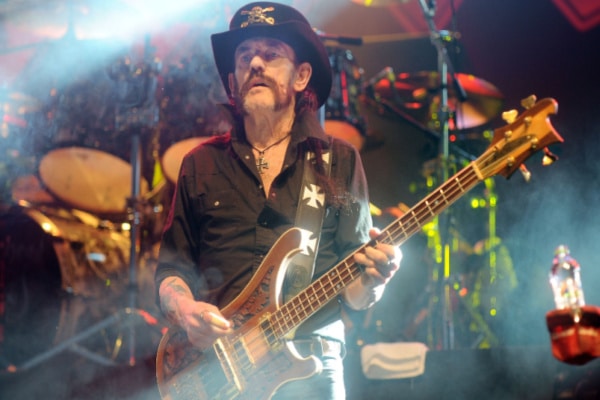 Motorhead's late lead singer Lemmy Kimister is to memorialised in a statue at France's Hellfest Festival on June 23.
One of the biggest Rock festivals in Europe, Hellfest is held in Clisson, France.
This statue was also erected by emerging French sculptor Caroline Brisset. This also replaces the previous sculptor, which had previously fallen apart due to the fact that the plaster was crumbling.
"great project"
Caroline Brisset also revealed that she had been approached about working on this project last year.
She was asked about this project by Hellfest organiser Ben Barbaud last November.
"I said yes because it was a great project", she said. "And it was also quite a challenge to make such a big statue in such a short time". 
"Great statue/monument of Lemmy being presented at Hellfest, France. I can't wait to come back to one of my favorite festivals in Europe. See you all there on Thursday!", Mikkey Dee former bandmate of Lemmy Kilmister said of the project.
The previous statue of Lemmy had been unveiled at his favourite drinking establishment in West Hollywood, California's Rainbow & Grill, with fans raising over $23,000 to fund the sculptor. It was also renamed 'Lemmy's Lounge'.
Lemmy Kilmister was the lead bassist and singer for Motorhead. He sadly passed away from cancer on 28 December 2015 at his LA home. He was 70 years old.
Ashes Of Lemmy In Bullet Casings 
Back in March 2021, Kilmister's ashes were also distributed in bullet casings and shared among his friends.
"Before his death Lemmy asked for his ashes to be put in some bullets and handed out to his closest friends", TV personality Riki Rachman said of this news.  "Today I received a bullet and was literally brought to tears".
A letter also came with these casings.
"We all know Lemmy knew many people, but he had few that he considered friends and even fewer that he considered family. Being that you are one of those people he considered family, we would like to share a little piece of him with you. Lemmy touched all of our lives in a way I don't think any of us could ever forget, but with these ashes you keep not only the memories you have, you keep Lemmy with you forever. He was Lemmy. He played Rock 'n' Roll. Don't forget him". 
More on this here.