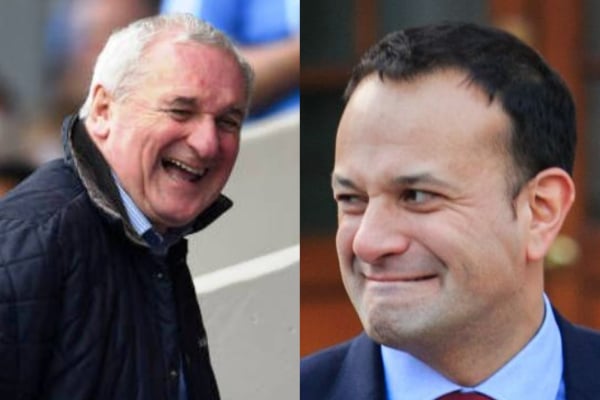 The Taoiseach says his past criticism of Bertie Ahern was the product of 'a point in time'.
In 2008 Leo Varadkar compared Bertie Ahern's defence at the time to a "John Gilligan" tactic, in a reference to the oft-convicted drug dealer in unflattering terms.
Mr. Varadkar, just weeks after Ahern resigned as Taoiseach on 6 May 2008, told the Dáil in the wake of Mr. Ahern's disclosures to the Mahon Tribunal.
"A former Taoiseach has gone to the tribunal and essentially given the John Gilligan defence — that he won the money on the horses."
Ahern has rejoined his local Fianna Fáil branch in Dublin Central – eleven years since he resigned from the party in the wake of the Mahon Tribunal.
Speaking in Brussels today, the current Taoiseach softened his cough dramatically:
"I think that was at a particular point in time and if you look at the totality of Bertie Ahern's career, you know let's not forget he was one of the architects of the Good Friday Agreement and that's something we're going to recognise in a few months time, and I don't thing anyone can diminish the role he played, but you know who's a member of Fianna Fáil is a matter for Fianna Fail."