A fake letter has been circulating on social media claiming to represent Dr Tony Holohan and the Government.
The letter which was widely circulated on the messaging platform WhatsApp last night claimed to be from Chief Medical Officer Tony Holohan and headed 'Office of the Taoiseach'.
The letter outlined that 'Publican Houses and bars' were to remain closed until at least 1st September.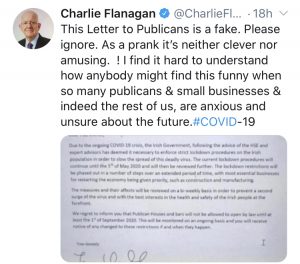 At last nights Press Conference Dr Tony Holohan confirmed that a letter circulating on social media was a fake.
Since this pandemic huge concerns have been raised about the spreading of false news on WhatsApp.
Last month WhatsApp introduced new stricter limits on message forwarding in a an attempt to stop the spread of disinformation.
Now, when users receive a message that has already been frequently forwarded they will only be able to forward it to one person at a time.