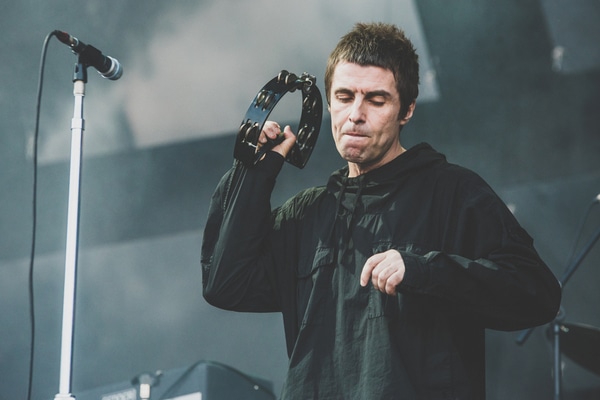 Noisy brothers, Liam and Noel Gallagher are at it AGAIN as their bitter feud is reignited with their latest war of words. Liam branded Noel a "massive c***" on Twitter when Noel asked fans: "Ask me anything about the last 10 years".
Liam, 48, slammed his brother today, who shared the clip to commemorate ten years of Noel Gallagher's High Flying Birds. The frontman shared the clip with the caption: "Last chance to ask Noel anything about the last 10 years! Get your questions in the comments below by midnight (BST) tonight #NGHFB10". However, Liam saw his chance to add fuel to the flames of their fractured relationship by asking: "Why are you such a massive c***?".
The Oasis pair have been at loggerheads since day one, although things have been irretrievable since the infamous Paris gig in 2009. An argument broke out as Oasis prepared to go onstage at the Rock En Seine festival, with Liam wielding Noel's guitar around "like an axe". It was to be the last straw for Noel, with the show subsequently cancelled, along with the rest of the tour.
As time passed, the rows have gotten worse and subsequent rows have stalled any reunion attempts so far. As recently as last week, Noel sarcastically joked he would end the decade-long feud with his brother Liam for £100million. That comment was met with Liam's reply of "I'd do it for free". Noel spoke of the situation on the Jonathan Ross Show and addressed the claim he turned down that amount.
"Why do you say 'it's not necessarily untrue' – because it is untrue. "There isn't £100m in the music business between all of us… if anybody wants to offer me £100m now, I'll say it now, I'll do it. I'll do it for £100m. Ludicrous. What is funny though is that I think Liam actually believes it, which is the funny thing."
Asked if he misses performing on stage with Liam, Noel said: "Not particularly no. It's a different band. It's a different thing." The argument not only disrupts a reunion tour, but also new albums, following their binning of a greatest hits LP. The brothers were contemplating releasing an Oasis greatest hits album, with incredible extra tracks, but could not agree on some details.
The album was ready to go with the rockers' best songs from the Noughties, including songs taken from albums Standing On The Shoulder Of Giants, Heathen ­Chem­istry, Don't Believe The Truth and Dig Out Your Soul.
"You know that Don't Stop demo we put up?" said Noel. "We had planned to do an Oasis best of the 2000s because it's a period of Oasis that the masses are not interested in but for the actual fans there's some great tunes. With Don't Stop it was like, 'Well people are f****** floundering, put that out, the fans will love it'. Well, we did this best of and the bonus disc was gonna be all these unreleased songs. But, ha, unfortunately we couldn't agree on something and it got dropped by the wayside."
In response to Liam's latest attack in the war of words, one fan said, "Liam this isn't helping the whole oasis thing", to which he replied: "Corse it is you wet wipe".