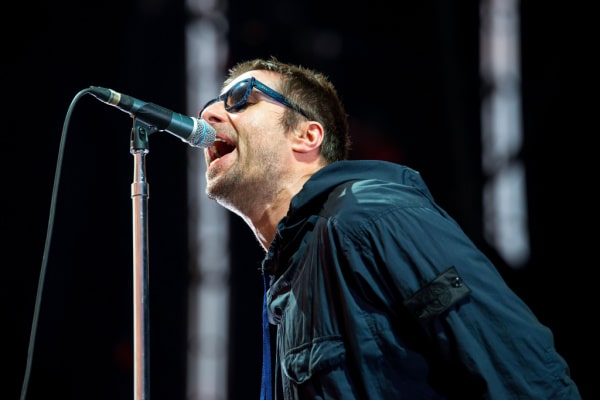 Liam Gallagher has confirmed that a new documentary based on his live performances at Knebworth this Summer is in the offing.
Arriving for a limited time in UK cinemas on November 17, the film documents the singer's live shows at the iconic venue, 26 years after his former band Oasis' history making shows at the same venue, in August 1996.
The film is directed by Toby L. After being showcased in UK cinemas, 'Knebworth 22' will be streamed via Paramount+ later this year.
Tickets for the show's screening go on sale from Friday (21 October) at 9am. You can get your hands on them here.
"beyond biblical"
Liam Gallagher confirmed this news in a statement shared via social media.
"I'm still in shock that I got to play Knebworth 2 nights, 26 years after I played it with Oasis," Gallagher wrote in a statement. "I'm still trying to get my head around it".
"To have played to multiple generations at the same venue so many years apart was beyond Biblical. I'm so glad that we documented it. Knebworth for me was and always will be a celebration of the fans as well as the music. Enjoy the film and let's do it again in another 26 years. LG x".
Director Toby L, also shared a statement.
"We wanted to add another layer to Liam Gallagher's life and story by not just commemorating his return to such hallowed grounds as a solo artist, but also sharing the light with those that make Knebworth such a landmark location – the people", he said.
"Few shows will ever hit such scale, and precious few moments such as the one experienced earlier this summer, can mean so much to so many. At a time when it's easy to feel powerless to the weight of the world around us, hopefully this film can be a small reminder of what we're capable of overcoming. It's a love letter to live music and being together again".
https://t.co/mkf5vhLMMx pic.twitter.com/1OtDbsnUXc

— Liam Gallagher (@liamgallagher) October 17, 2022
Earlier this month, Liam Gallagher also released a brand new single supporting World Mental Health Day. Check that out here.