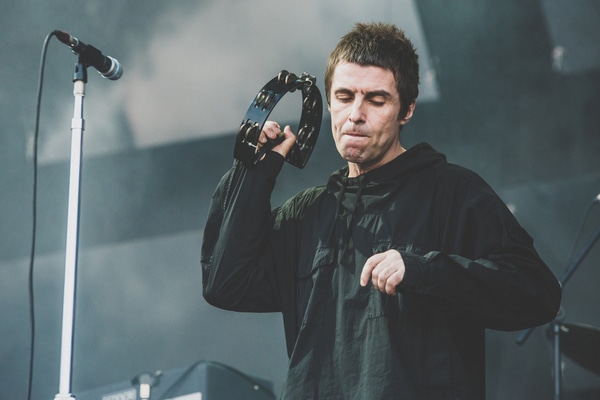 Liam Gallagher has apologised for sending a threatening tweet to Atletico Madrid footballer Stefan Savic.
This comes after Gallagher's beloved Manchester City drew 0-0 with Atletico Madrid in the Champions League, knocking the Spanish club out of the competition 1-0 on aggregate. The game itself was not without its flashpoints.
Towards the end of this match, Stefan Savic appeared to headbutt Man City's Raheem Sterling, as tempers began to flare.
After the match, former Oasis frontman posted this tweet, which has since been deleted.
"Stefan Savic this is a threat if I come across you ya goofy looking C*** your dead MCFC", he wrote.
"outlandish behaviour"
Since then, Liam Gallagher has once again taken to Twitter, expressing his remorse over his "outlandish" actions.
"I'm really upset and annoyed at myself", he tweeted. "I feel I've let all my fans down by my outlandish behaviour I'm a role model to GROWN UPS hope you can forgive me".
Im really upset and annoyed at myself I feel I've let all my fans down by my outlandish behaviour I'm a role model to GROWN UPS hope you can forgive me LFUCKING x

— Liam Gallagher (@liamgallagher) April 15, 2022
Replying to the tweet, one person asked Gallagher "Will you keep the love train going?".
To which Gallagher responded, "Yes I'll give it my best shot even though it might come of the rails every now and again". 
Another Twitter user even suggested to Gallagher, "Never act when you are upset or angry, calm down and think, then you'll be in the right frame of mind". 
"Ok Thsnx for that advice I'm really gonna take that on board", Gallagher replied.
Gallagher In Apology Mood This Week
Former City player, Stefan Savic is not the only recipient of an apology from Liam Gallagher this week.
It also emerged this week that the Cmon You Know singer had also apologised to Austrailian singer Peter Andre over an ongoing feud which reportedly began in 2007.
When asked about who would he collaborate, text or avoid, between Andre, Dolly Parton and Trevor McDonald, Liam branded Peter Andre a "c***". 
Andre responded, by saying that the former Oasis singer was all "all mouth and no trousers".
However, in his latest OK! Magazine column, Peter Andre revealed that Gallagher had apologised to him, and even praised his parenting skills.
"He once said some harsh things about me in an interview", Peter Andre wrote. "I took it on the chin, as I'd been told it's his nature". 
Andre also added, "A while later, I bumped into him and he not only apologised, but praised me for being a great father and for my relationship with my kids". 
Gallagher also had a wish for all his fans over this Easter weekend.
He who without sin throw the first stone have a good Friday and remember always look on the bright side of life ya Bumbaclarts

— Liam Gallagher (@liamgallagher) April 15, 2022