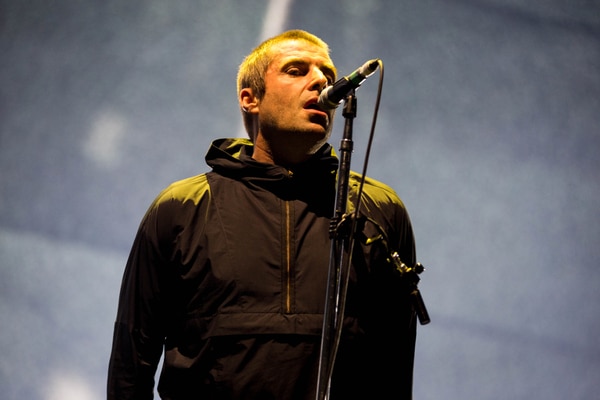 Liam Gallagher has announced that he's working on not one, but two new albums.
That would double his total of solo albums to four, following his 2017 solo debut As You Were and his 2019 followup Why Me? Why Not.
The ex-Oasis frontman's most recent solo offering was last year's single All You're Dreaming Of. Last September he promised a new album in 2021.
In a new interview, Gallagher has revealed that he's been a busy boy as far as new material is concerned.
"I've kind of got two albums on the go," Gallagher boasted. "I've got like one that's a bit mad and one that's a bit more like kind of whatever normal is, a bit more classic. So, we're just going to wait and see which one we should put out, you know what I mean?"
Gallagher suggested he would begin work on recording the new material when he finishes his current roster of live shows.
"But I've been busy, man, so I can't wait," he said. "Just got to get these gigs out of the way and next year gonna proper own it!"
The gigs in question are Gallagher's headline appearances at Reading/Leeds, Glasgow's TRNSMT and the Isle of Wight festival.
On Tuesday, August 17th, Gallagher played a special show at London's O2 Arena for NHS workers. It was his first live appearance in over 18 months.
Gallagher joked that the assembled "doctors, nurses and drug dealers" were "my kind of people." He also wisecracked that the free gig was a rare event without ticket touts. On a more serious note, Gallagher used the stage to call for a pay rise for NHS workers.
The concert saw Gallagher perform a variety of songs from both his solo career and the Oasis back catalogue. It also featured his first ever solo performance of the Oasis track Go Let It Out, and the first time he has performed it since 2002.
This September, fans of the Gallagher brothers can catch a brand new documentary in cinemas. Oasis Knebworth 1996 details the band's legendary two night performance at the titular festival.
Liam confessed that he remembers very little of the event itself.
"I'm very proud of it, I am," he said. "What do I remember? Not a lot, really. Nothing. I remember forgetting that we were doing a second night – I thought we were only doing just one, so I got really drunk after the first night. But I can't remember anything else."
Noel said Knebworth defined "what British pop music was about at that time."
"It all felt like it was leading to Knebworth," he said.
Oasis Knebworth 1996 is in cinemas from September 23rd.