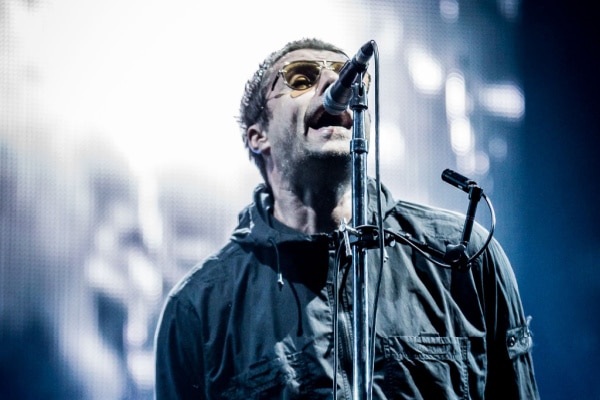 Liam Gallagher has revealed that he is in talks about forming a supergroup with The Stone Roses' guitarist John Squire.
During his live performance at Knebworth, the singer brought Squire out onto stage for a live performance of Oasis classic 'Champagne Supernova'.
At the time, Gallagher even tweeted, "Super group incoming LG JS,". 
"definitely going to do summit"
Liam Gallagher shed further light on the subject during a recent interview with Apple 1's Matt Wilkinson.
"Yeah. Serious, man. But we've got things to do first, and he's got things to clear up and that. But yeah, I'm definitely going to do summat at some point", the singer said.
When asked by Wilkinson, if dialogue had taken place between the pair, Liam Gallagher replied, "Maybe, yeah. Probably did that at Knebworth and that, I think, if I can remember anything about it". 
Gallagher who celebrated his 50th birthday yesterday, also revealed that he has been drinking "half a bottle of brandy" mixed with hot water and honey, as part of his pre-concert preparations this past year, in order to warm up his vocals.
"It's half a bottle of brandy before I go on," Gallagher explained. "I have kind of backed it off now. But the last year I've been walloping the brandy with honey and hot water, and going on a little bit".
"I've been getting a bit battered on stage recently. Not battered as much but just… I wouldn't say nerves but I think as you get older, you do get a little bit more… you're not as cocksure". 
We've mentioned 'Champagne Supernova', but earlier this Summer, Liam Gallagher revealed that another Oasis classic track 'Wonderwall"  used to iritate him, insisting that it used to do his "head in".
"It's alright and that, but are you taking the p***? That used to my head in that tune! I've only started to come around to it again as I've got older", Gallagher said in a previous interview.
When asked about his favourite track, Gallagher picked 'Live Forever', describing the song as "sentimental".