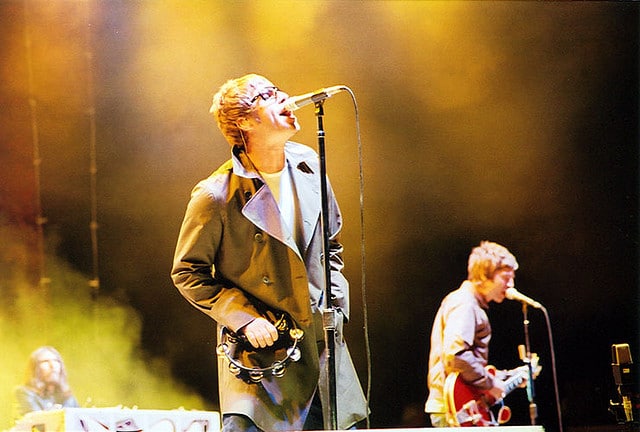 Liam Gallagher made his first on stage appearance since announcing the breakup of his band Beady Eye.
The Who tribute concert was for charity, to raise money for the Teenage Cancer Trust.
The singer sang at Shepherd's Bush Empire in London last night, performing the classic Who tune 'My Generation'.
Liam was accompanied by an all star cast of musicians on the night that included, Pearl Jam's Eddie Vedder, Kaiser Chiefs' Ricky Wilson and Geddy Lee of Rush, who flew in from Canada especially for the charity show.
The Who's Roger Daltrey kicked off the evening by explaining that Pete Townshend was not in attendance because he was "at home looking after the dogs. I think he'd rather do anything than hear his songs played back to him! He doesn't like playing them himself!"
Despite claiming that he wouldn't perform at the Who tribute, Daltrey stepped in to sing 'Substitute' after James Dean Bradfield fell ill.
Vedder sang 'Naked Eye', 'Won't Get Fooled Again', and lead an encore of 'Listening To You.' Other artists that took the stage were English singer-songwriter Tom Odell, Scottish singer Amy Macdonald and Razorlight's drummer Andy Burrows.
'The Kids Are Alright' was performed by Wilko Johnson and The Strypes, while Def Leppard's Joe Elliott sang 'Love Reign O'er Me'.
Ricky Wilson was joined by Phil Daniels, the star of the 1979 film 'Quadrophenia' for 'Bell Boy', which was originally released in 1973.
Watch Liam Gallagher performing 'My Generation' below.
The Who Hits 50 tribute night setlist:
'Can't Explain' – Andy Burrows
'The Kids Are Alright' – Wilko Johnson + The Strypes
'Getting In Tune' – Tom Odell
'Behind Blue Eyes' – Amy Macdonald
'Who Are You?' – Rizzle Kicks
'You Better You Bet' – Rich Hall
'5.15' – Ricky Wilson
'Bell Boy' – Ricky Wilson + Phil Daniels
'Love Reign O'er Me' – Joe Elliott
'Acid Queen' – Sheila Ferguson
'The Seeker; Geddy Lee
'Baba O'Riley' – Leslie Mendelson
'My Generation' – Liam Gallagher
'Naked Eye' – Eddie Vedder
'Won't Get Fooled Again' – Eddie Vedder
'Listening To You' – Eddie Vedder
'Substitute' – Roger Daltrey
'Young Man Blues' – Roger Daltrey