At midnight last night, Noel Gallagher as promised released a demo of an unreleased Oasis track called 'Don't Stop'.
It was the news that Oasis fans had waited to hear for over a decade and even fuelled a reunion of the band.
However any hopes of a reunion were quickly quashed by Liam's scathing response to the release as he took to social media.
The former Oasis frontman who has been at loggerheads with his estranged brother ever since they had a bust up at their final gig in 2009, which led to their acrimonious split called the acoustic track, which has Noel on vocal, a 'god almighty stew' and said it was 'missing' him.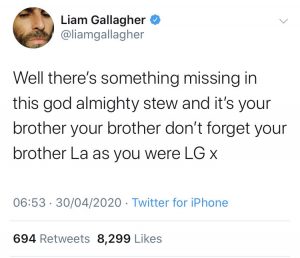 Liam tweeted 'Well there's something missing in this god almighty stew and it's your brother your brother don't forget your brother La as you were LG x'
Replying to one fan on twitter he tweeted;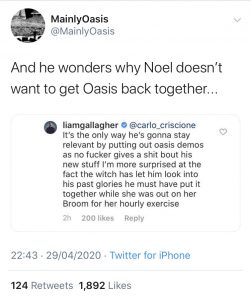 Guess we're not getting that Oasis reunion anytime soon then.
As you were 😛