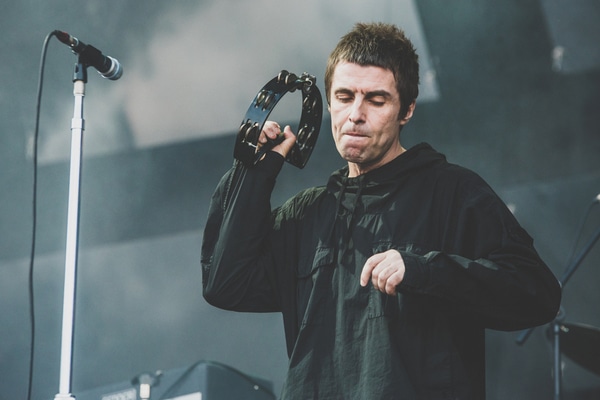 Liam Gallagher has been speaking about his upcoming album Cmon You Know. He also gave us an insight into the difference in preparing for a gig aged 20, in comparison with preparing for one at 50 years old!
The singer has already dropped a new tune Everything's Electric which features on this new album. The track was co-written by Foo Fighters Dave Grohl and produced by Greg Kurstin.
Check out the track here.
When interviewer Chris Moyles called the song "a great tune", Gallagher uttered this reponse, "It keeps the doors open to what's next, know what I mean?".
"some of its odd man"
On the album, Liam Gallagher had this to say. "Some of it's odd, man. I'd say 80 per cent of the record's a bit peculiar, but still good. And 20 per cent of it's kind of classic, like this".
"I still sound normal and mega and all that", he added. "But, you know, if you're going to do something a little bit different, do it in these times, because if people don't dig it, just blame it on COVID innit? And then we'll go back to the normal stuff on the next record".
Gallagher also opened up on nearly reaching the half century. He mentioned that it is not simple as just walking on stage and singing.
"I know it doesn't sound rock n roll, but when I'm singing there is no smoking and I don't drink dairy on the day", he revealed. "I have those Yasmin teas, which are good for the throat. It has got to be done, you don't do that when your 20!". 
For any young, aspiring rock stars out there, Liam Gallagher had this advice, "All you 20 year old rock stars. Ignore me". 
"very smooth, very sexy"
Along with Everything's Electric, Gallagher also revealed that a special John Lennon cover track Bless You will feature on Cmon You Know.
"There is a track called Bless You by John Lennon which will be on the album", Gallagher told Chris Moyles.
"It's very smooth and sexy, very Marvin Gayish", he added. "It is very soft".
"That's what happened if you don't drink dairy", he joked.
On top of this, Liam Gallagher was also asked about Boris Johnson and the recent flack he has received over alleged Covid lockdown parties at Downing Street.
"The same as everyone else's, I think", the former Oasis frontman insisted. "Bit ridiculous, ain't he, know what I mean?". 
"And he should never be in power and running this country, but they're all as bad as each other, so my vibe is just get rid of 'em all".