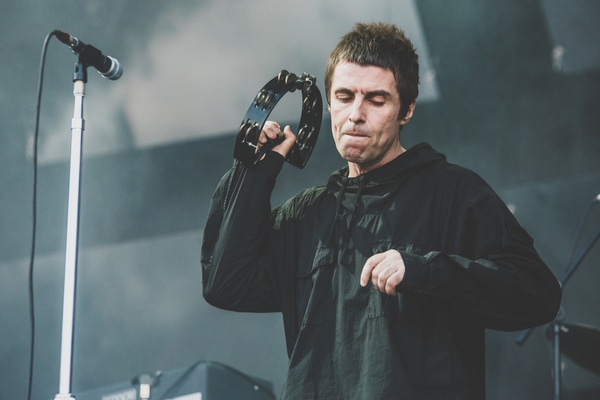 Liam Gallagher was spotted recording a performance on a boat sailing down the River Thames in London.
Photos and videos of the former Oasis frontman were shared all over social media. This has led to many fans wondering what the recording is for. There has been no official announcement as of yet, but some are suspecting it is for a new music video or was rehearsal for a potential live stream event.
Since the performance on the boat, Gallagher has been tweeting his displeasure at the government and the media. It has been said that by performing on the boat, he was in violation of lockdown rules in London, but there has been no statement from the MET police in London so far.
Fuck the government fuck the the media ive just pissed in your back garden and have a guess what it cost you nothing RNR will never die LG x

— Liam Gallagher (@liamgallagher) November 7, 2020
In some videos posted online, Gallagher's track 'Greedy Soul' can be heard. Other videos and images are show a more clear and defined set up on the boat. Gallagher was joined by his band on the boat and his traditional Rock and Roll sign that he uses at concerts was also on display.
Liam Gallagher casually floating down the River Thames in London tonight pic.twitter.com/ikQ6BgmU8M

— Mainly Oasis (@mainlyoasis) November 6, 2020
Earlier this week, Gallagher told fans to keep their "eyes peeled". He also wrote in the tweet "I have a celestial announcement to make on Monday c'mon you know LG x".
He has also announced the release of a limited edition vinyl box set of his second solo album 'Why Me? Why Not'. The album was released in September 2019 and was the follow up to his first solo album released in 2017 entitled 'As You Were'.
The new edition will be released on November 27th via Warner records. The new collection contains 14 white 7" vinyl records housed in a hard case lift-off lid box. Each record features a track from the deluxe edition of 'Why Me? Why Not.' on the A-side, with a different coloured screen printed image on the B-side. A unique piece of artwork also comes with each 7″. It is available to pre-order from Gallagher's store here.
Radio Nova's other site, therock.ie recently posted their top 10 britpop bands of the 90s, check it out here to see where Oasis were placed.
Gallagher will be joining the Queens Of The Stoneage, Post Malone and Stormzy as headliners for Reading and Leeds next year. Gallagher has also been confirmed to appear at Rock in Rio Lisbon next year. He will take to the stage along with The National and Foo Fighters on the first night of the festival.
He is also due to play Belfast in June of next year.
Why Me? Why Not track list
1. Shockwave
2. One of Us
3. Once
4. Now that I've found you
5. Halo
6. Why me? Why not.
7. Be Still
8. Alright Now
9. Meadow
10. The River
11. Gone
12. Invisible Sun
13. Misunderstood
14. Glimmer