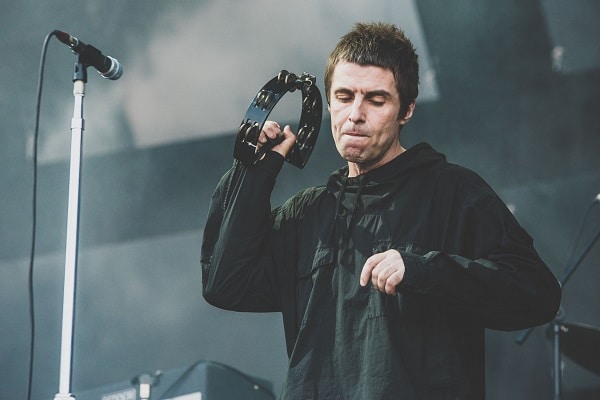 During a Twitter feud, Liam Gallagher told former Liverpool footballer Jamie Carragher that Oasis "p*** all over the Beatles". 
This spat took place, after Gallagher's beloved Manchester City sealed their fourth Premier League title in five years after they beat Aston Villa on the final day of the season.
Liverpool beat Wolves, but finished as league runners up to Man City.
"What you saying Carra" 
Following these dramatic events, Liam Gallagher took to Twitter, and took aim at Aston Villa manager Stephen Gerrard, before turning his attention to Gerrard's former Liverpool team mate and Sky Sports pundit Jamie Carragher.
Gallagher started by tweeting, "What you saying Carra you [bell] end".
Jamie Carragher sharply returned by insisting that Man City would "never win the Champions League", and that "Oasis are s**** compared to the Beatles".
Gallagher responded in kind, claiming that Carragher had "sh** banter for a scouser". The singer also insisted that his former band "p*** all over the Beatles". 
He also asked Carragher about how many times had the Beatles played at Knebworth. Oasis of course played two iconic gigs at that venue in August 1996, with 125,000 concert goers taking to the venue each night.
Check out this Twitter feud below.
I'm saying you'll never win the Champions league & Oasis are shite compared to the Beatles. That work??

— Jamie Carragher (@Carra23) May 22, 2022
Eh carra you got shit banter for a scouser fucking hell la you been hanging out with Neville too long oasis piss all over the Beatles how many times did they do knebworth

— Liam Gallagher (@liamgallagher) May 22, 2022
Gallagher And Twitter
This is not the first time that Liam Gallagher has become embroiled in a Twitter spat.
Back in April, the former Oasis singer apologised to Atletico Madrid footballer Stefan Savic for threatening to kill the former Man City player in a vile Tweet.
This happened, after Savic had appeared to headbutt Manchester City's Raheem Sterling in the Champions League clash between the teams.
"Stefan Savic this is a threat if I come across you ya goofy looking C*** your dead MCFC", Gallagher wrote.
However since then, Liam Gallagher apologised for his "outlandish" behaviour.
"I'm really upset and annoyed at myself", he wrote."I feel I've let all my fans down by my outlandish behaviour I'm a role model to GROWN UPS hope you can forgive me".
A few years ago, Liam Gallagher spoke to Graham Norton about his approach to Twitter.