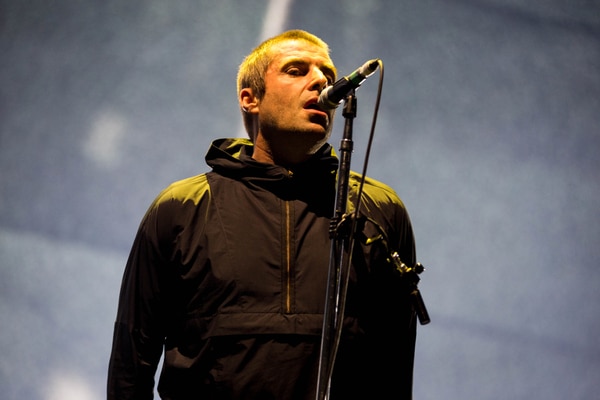 Liam Gallagher is coming to Dublin.
The former Oasis frontman has announced he will play a huge outdoor concert at the Royal Hospital Kilmainham on Saturday, August 27th.
"I'm absolutely buzzing to announce that on 27th August 2022 I'll be playing Royal Hospital Kilmainham," Gallagher said. "It's gonna be biblical. C'mon You Know."
Tickets for the concert will go on sale via ticketmaster.ie at 10am on Thursday February 17th.
Gallagher's third solo album, C'Mon You Know, will release on May 27th. His three previous solo albums – 2017's As You Were, 2019's Why Me? Why Not and 2020's MTV Unplugged – all topped the UK album chart and Gallagher will hoping to continue his streak.
A first single from the album, Everything's Electric, was released last week. The track sees Gallagher collaborate with Foo Fighters frontman Dave Grohl, who co-wrote the song and performs drums on the recording.
"Liam wanted a song that melds the thunderous dynamics of Beastie Boys' 'Sabotage' with the spiralling tension and danger of The Rolling Stones' 'Gimme Shelter'," a statement released with the single read. "And that's what they achieved. With raw, rhythmic phrasing, this is as close as Liam's iconic snarl comes to rapping and that punk-meets-hip-hop attack is underlined by boisterous bass. Meanwhile, slide guitar, piano flourishes and Liam's haunting backing vocals pay tribute to arguably The Stones' finest moment."
Earlier this week Gallagher gave Everything's Electric its live debut at the Brit Awards. The singer made a dramatic entrance to London's O2 Arena by helicopter before launching into his new single.
You can watch his performance below.
Gallagher has described "80 per cent" of C'Mon You Know as "a bit peculiar."
"Some of it's odd, man," he said in a UK radio interview. "I'd say 80 per cent of the record's a bit peculiar, but still good. And 20 per cent of it's kind of classic, like [Everything's Electric]. I still sound normal and mega and all that. But, you know, if you're going to do something a little bit different, do it in these times, because if people don't dig it, just blame it on COVID innit? And then we'll go back to the normal stuff on the next record."
During a red carpet interview at the Brits, rapper Aitch reiterated his desire to collaborate with Gallagher.
"When it comes to meeting someone it's Liam definitely," he said. "I'll just say, 'Why are [you] not on my album yet?' See how it goes from there."
Last year Aitch took to Twitter to offer Gallagher £7 million to appear on his album.
I will pay £7 Million for you to be on my album @liamgallagher

— Aitch (@OfficialAitch) December 13, 2021