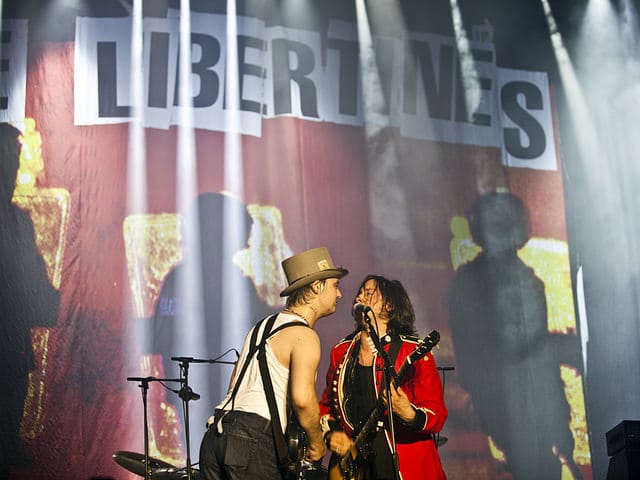 The Libertines closed out the Reading Festival in style last night as they played a mix of material off their new album as well as older songs. They kicked off with 'Horror Show', before going into 'Vertigo' & 'The Delaney'.
When the band kicked into arguably their most popular song 'Can't Stand Me Now' the crowd started to light flares. Halfway through the show, Barat said: "We would like to welcome a friend to the stage. Mr Ed Harcourt." He then got behind the piano for 'You're My Waterloo' while Doherty took up vocals.
Th Libertines also played a number of tracks from their upcoming album Anthems For Doomed Youth which releases on September 4th. Among them was the lead single off the new album 'Gunga Din' which got an official video last month.
For the encore The Libertines returned to play some of their classic anthems like – 'Up The Bracket', 'What A Waster', 'Don't Look Back Into The Sun', which ended with Doherty smashing up his mic stand, before finally finishing with 'I Get Along'.
The Libertines closed out the festival on a day when Foals were also on the bill. It was recently announced that Foals would be headliners for next year's festival after their performance this year.
Photo Credit: scannerFm