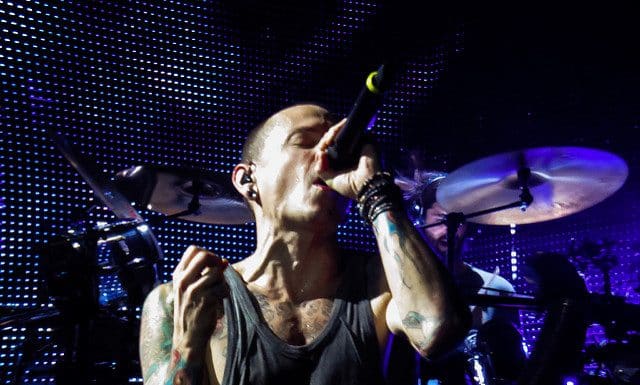 Clearly after watching Twenty One Pilots dominate the charts the past year doing their own take on Linkin Park's schtick, the lads from California have decided to make a grand return to music.
They kicked it off with a live video stream on Facebook, where they debuted their new song. The Facebook live video was handy enough way to release the new music as Linkin Park are apparently the most followed band on Facebook with 62 million likes (yeah, we're surprised too!)
The song, entitled Heavy, is a duet with Kiiara who is an up and coming singer, known for her hip-hop-inspired electro-R&B hit "Gold". The band teamed up with song writing partners Justin Tranter and Julia Michaels who have previously written songs for Gwen Stefani, Justin Bieber and Selena Gomez.
Heavy has quite a different sound than we're used to by Linkin Park. Gone are the heavy guitars and the screaming angst we all came to love so much. The band seem to be making a move to return to the mainstream charts with this decidedly poppy and slow downed number.
Though fear not, hardcore LP fans, they haven't completely forgotten their routes. They still have some emo-tastic lyrics such as "I don't like my mind right now" and " I keep dragging around whats bringing me down/if I just let go I'd be set free"
The band have spoken about how their upcoming album is going to have a distinctly different sound than their previous work.
Bandmate Mike Shinoda was on a Youtube question-and-answer session a little bit ago and told fans about the new album: "I can't tell you what it sounds like. I can tell you you're going to be surprised. You gotta expect the unexpected. Don't expect what you've heard before."
He certainly wasn't lying. You can check out the new song here.
If you are a fan of the new sound then you'll happy to know the rest of the album is set to sound similar. Shinoda also gave a recent interview with Billboard and stated
"One of the reasons why we chose 'Heavy' as the first single is because it is really the core sound of the album," Shinoda said. "This wasn't a scenario where the whole album sounds one way and the single sounds different. This is how the album sounds. So we wanted to go out with a song like that, where everybody can get a sense of the direction of this body of work."
Linkin Park's next album, One More Light, is out May 19 from Warner Bros. It will be their first album since 2014's The Hunting Party
Photo Cred: Chris Parker