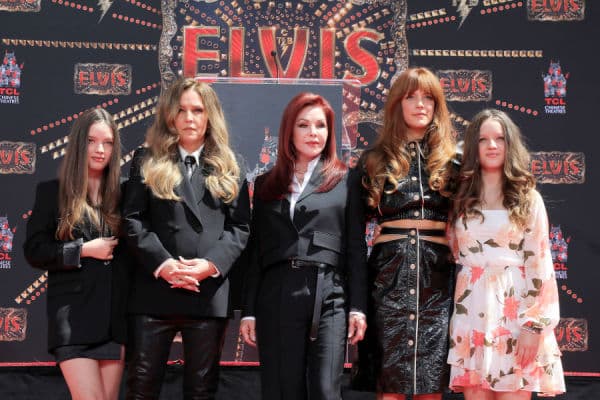 Would you like to listen to the article instead of reading it?
At her memorial yesterday, it was revealed that Lisa Marie Presley had become a grandmother before her death.
This was announced by her mother Priscilla Presley and daughter Riley Keough at Lisa Marie's memorial service, which took place yesterday (January 22).
Lisa Marie Presley died earlier this month, having suffered a cardiac arrest at her Calabasas home. She was 54 years of age.
The service took place on the front lawn of the Presley family home in Graceland.
"a letter to my mama"
News of Lisa Marie Presley becoming a grandmother was revealed during an emotional speech made by her grandmother Riley Keough at the memorial service.
"A letter to my mama – thank you for being my mother in this life. I am eternally grateful to have spent 33 years with you. I'm certain I chose the best mother for me in this world and I knew that as far back as I remember you and I remember everything", she read.
"I remember you giving me baths as a baby and I remember you driving me in my car seat listening to Aretha Franklin".
She also "remembers the way you would cuddle me at night, and the way you smelled. I remember you taking me for ice cream after school in Florida. I remember you singing me and my brother lullabies at night. I remember how you would lay with us until we fell asleep".
"the most loving mother"
In the letter, Riley also recalled "how it felt to be loved by the most loving mother I've ever known".
"I remember how safe it felt to be in your arms. I remember that feeling as a child and two weeks ago on your couch. Thank you for showing me that love is the most important things in this life".
"I hope I can love my daughter the way you loved me," the letter went on, revealing that Riley had privately welcomed her first child.
"The way you loved my brother and sisters, thank you for giving me heart, strength, empathy, and courage, my sense of humour, my manners, my temper, my tenacity. I'm a product of your heart. My brother is a product of your heart, my sisters are a product of your heart. We are you, you are us… I hope you finally know how loved you were here. Thank you for trying so hard for us. If I didn't tell you every day, thank you".
The memorial service also saw household names like Axl Rose, Alanis Morrisette and Billy Corgan perform moving covers. Check them out here.