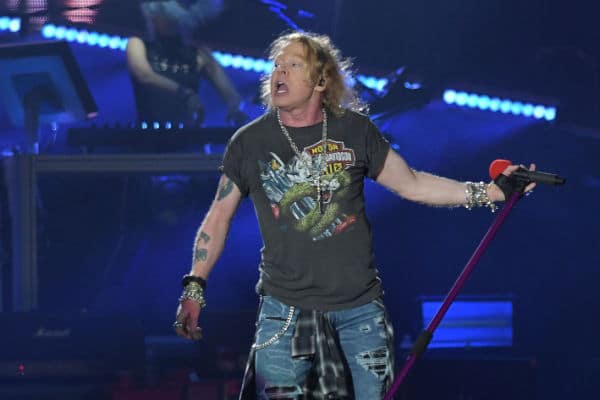 Guns N'Roses frontman Axl Rose has said that Lisa Marie Presley had asked him to play 'November Rain' in the event of her death.
Lisa Marie Presley passed away earlier this month, having suffered a cariac arrest at her home. She was 54 years old.
Lisa Marie was the only daughter of late music icon Elvis Presley and his ex wife Priscilla.
The late singer's memorial service took place on the front lawn of the Presley family home in Graceland.
The service saw a myriad of household names pay homage to Lisa Marie, with Axl Rose performing a piano solo of 'November Rain', while Alanis Morrisette performed a cover of her track 'Rest'. Find out more here.
Before he performed the track, Axl Rose delivered a moving euology in Lisa Marie's honour.
"I do know Lisa loved her family very much, and was fiercely protective of her father and his legacy", he said. "I never in a million years imagined being here, singing under these circumstances". 
Axl Rose singing "november rain" at Lisa Presley memorial pic.twitter.com/io9RGnEMDg

— ؘ (@axlrosedaily) January 22, 2023
"I don't know that I deserve to be there" – Rose On Performing At Lisa Marie's Memorial
Afterwards, the Guns N'Roses lead singer spoke about the magnitude of the occassion.
"I didn't really know I was going to speak or anything, and I still feel like I don't know that I deserve to be here. But I wanted to do right by her and her family and the fans", he said.
"So it meant a lot, I was pretty nervous and emotional up there about it. When I wrote it, I was calm – but not saying it". 
Elsewhere, Rose also added that it was Lisa Marie's request that he perform the Guns N'Roses 1991 hit.
"Yes, it was my understanding she had actually talked about, if the situation… So that's why I was asked to do it. So of course I had to be here", he continued.
At the memorial service, it emerged that Lisa Marie had recently become a grandmother, he daughter Riley had revealed. More on this here.