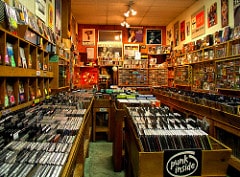 The countdown is on for the 10th annual World Record Store Day which is taking place next month and again it promises another treasure trove of exclusive and limited releases. Over 500 releases have been announced to be made exclusively available through independent record shops on Saturday 22 April – on vinyl, picture disc, cassette and much more.
David Bowie, Prince, The Cure and The Smiths are some of the artists with special releases set to drop for Record Store Day's 10th anniversary.
Both Bowie and Prince have several posthumous releases lined up. Prince's include a handful of 12-inch singles (including "Sign O' the Times," "I Could Never Take the Place of Your Man" and "Batdance") and a seven-inch picture disc featuring "Little Red Corvette" and "1999." And Bowie's previously unreleased 1974 live album, Cracked Actor, will be shared as well as BOWPROMO, a reproduction of some of his earliest demo promos.
The Record Store Day line-up also offers an array of live albums, including a vinyl version of Bruce Springsteen and the E Street Band's legendary 1975 show at the Hammersmith Odeon in London. The Boss is in full support of keeping record stores alive saying, "I buy CDs all the time. I'll go into a record store and just buy $500 worth of CDs. I will! I am singlehandedly supporting what's left of the record business. I hate to see record stores disappear, and I'm old-school in that I think you should pay for your music. But what my kids do is download a lot of things, pay for them, and then if they love something, they'll get the CD. That may be the future."
Lou Reed's acoustic concert at the 1997 Meltdown Festival in London is also set for release as a double album April 22nd and Iggy Pop's recent Royal Albert Hall performance in support of his LP Post Pop Depression will arrive as a three-LP set with a 16-page book.
Sure why not take a leaf out of the Boss' book and just visit your local record shops and have a look around, talk to people there and buy something – it doesn't have to be some exclusive overpriced picture disc, just an album or release you've always wanted to own.
As High Fidelity's Slam (author Nick Hornby) put it, "Yes, yes, I know. It's easier to download music, and probably cheaper. But what's playing on your favourite download store when you walk into it? Nothing, that's what. Who are you going to meet in there? Nobody. Where are the notice boards offering flat shares and vacant slots in bands destined for superstardom? Who's going to tell you to stop listening to that and start listening to this? Go ahead and save yourself a couple of quid. The saving will cost you a career, a set of cool friends, musical taste and, eventually, your soul. Record stores can't save your life. But they can give you a better one."
Check out the full list of releases for Record Store Day 2017 here and a full list of participating stores here.
Check out www.recordstoreday.com for special Record Store events and things taking place on the day throughout Ireland.
Picture Credit: Ann Althouse