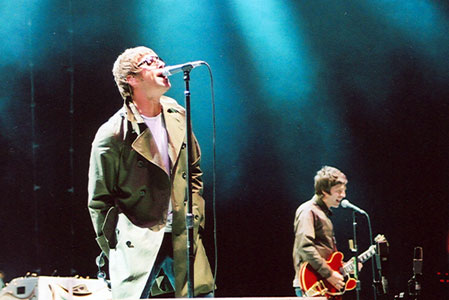 Oasis have released 'Don't Go Away', which is the first of the legendary Mustique demos to be made available.
The track, which has never been heard before, is part of the original demos for Oasis' third album. 'Be Here Now' has been re-released as part of the Chasing the Sun series, which will be released on October 7th. The release will follow the reissuing of 'Definitely Maybe' and 'What's the Story (Morning Glory)'.
The album will also feature Gallagher's 2016 version of ' D'You Know What I Mean?'. In a statement about the track, he said "As the years went by I'd started to accept that the songs on Be Here Now were in fact insanely long … too long! Someone (I can't remember who) had the idea that we re-visit, re-edit the entire album for posterity's sake. We got as far as the first track before we couldn't be arsed anymore and gave up … it does sound fucking mega though."
The original Mustique demos went missing just after 'Be Here Now' was completed and because of this, they have achieved a mythical status within the band's fanbase. The demos, which were recorded in 1996 on the Caribbean island by Noel Gallagher and Owen Morris, were lost until recently being found in the label's archives.
You can listen to the song below:
All 14 of the Mustique demos are now being released  in special editions of the new Chasing The Sun edition of 'Be Here Now'. You can pre-order the album here.

Photo Cred: Will Fresch