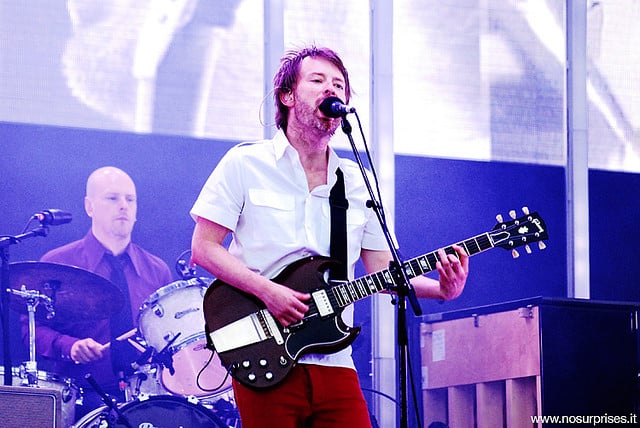 Radiohead have released a new track titled 'Spectre' which was meant to have been used as the new Bond theme. However, Sam Smith's song was chosen instead so it wasn't released.
The band decided to release the new track in full so the fans could hear their take on a Bond theme. It is very evident when you first listen to the track that it is for a film with a full string arrangement appearing on it.
Even though the track is backed by an orchestra, it isn't your traditional movie theme and there is definitely a Radiohead twist to the track. The song has jaunty piano chords and a signature jazzy drum pattern from Phil Selway.
Thom Yorke is no stranger to movie soundtracks and some of his solo tracks have appeared in movies. Yorke has also written for the stage as he composed music for Harold Pinter's Old Times.
However, the real soundtrack guru in Radiohead is guitarist Jonny Greenwood who has composed music for several different movie soundtracks. Some of his best known soundtracks include There Will Be Blood, The Master and most recently Inherent Vice.
You can listen to the new track by Radiohead 'Spectre' down below.
Photo Credit: Alessandro Pautasso