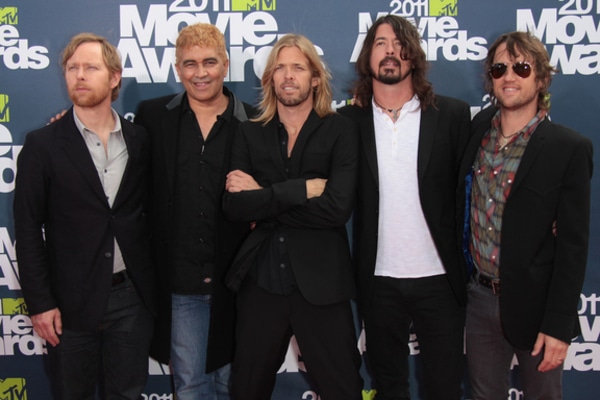 Foo Fighters have unveiled their new side project – The Dee Gees.
The Dee Gees – which sees the rockers pay tribute to the disco era tunes of The Bee Gees – released their debut album Hail Satin on July 17th in celebration of Record Store Day. The album was recorded at Foo Fighters' Studio 606.
The act was first teased back in February when Foo Fighters performed a cover of The Bee Gees' You Should Be Dancing on Jo Whiley's Sofa Session on BBC Radio 2.
"We've been going down to our studio every day and filming things and recording things, and this one day we had our list of things we were supposed to do and it said, 'Record a cover song for Jo,'", frontman Dave Grohl told Whiley.
"And while we were having this conversation somebody said, 'Hey, have you seen that Bee Gees documentary?' And I was like the last person on earth – the only person that hadn't seen it! So I was like, 'Why don't we just do a Bee Gees song?' And someone was just like, 'OK… how do you wanna do it?!' And I said: 'Well, let's do it like the Bee Gees."
"We started recording the instrumental track, and then I thought, 'OK, well I'm gonna go out and sing it…' and let me tell you: I have never, ever in my life sung like that, but it was the easiest song I have ever sung in my entire life!"
Hail Satin features covers of four Bee Gees classics – You Should Be Dancing, More Than a Woman, Night Fever and Tragedy – along with a cover of Andy Gibb's solo hit Shadow Dancing. Also included are five live versions of tracks from Foo Fighters' most recent album, 2020's Medicine at Midnight.
You can listen to the full album via Spotify below:
Last week Foo Fighters were forced to cancel a show at the Los Angeles forum following a positive COVID test from someone "within the Foo Fighters organisation."
The band is now set to headline Lollapalooza Chicago at the end of July.
Foo Fighters have been criticised in an expletive laden rant by Cro-Mags singer John Joseph for performing at venues that require full vaccinations from concert-goers.
"You've got motherf*****s like Dave Grohl, who used to play drums for Scream and open up for the Cro-Mags, now he's with the Flu Pfizers, the Flu Fighters, and it's, like, 'We're playing vaccinated-only shows'," Joseph said on The Void with Christina podcast.
"What kind of bullshit is that?" he continued. "What kind of f*****g bullshit are you f*****g dealing with in your f*****g head that you would play a vaccinated-only f*****g show?"