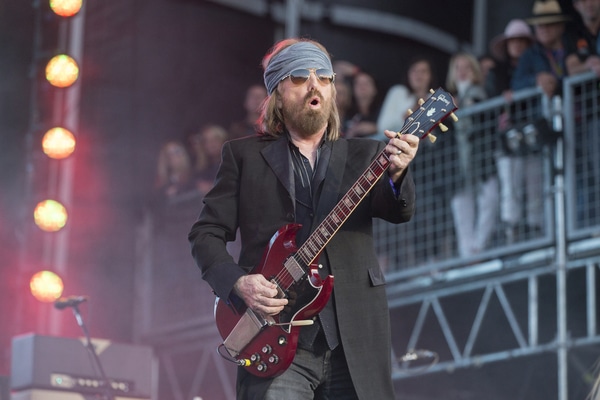 An official lyric video has been released for '105 Degrees', a previously unreleased track by Tom Petty and the Heartbreakers.
The song is one of several previously unavailable tracks that were recorded for the soundtrack of the 1996 film She's the One. The tracks have now been released as a new collection under the title Angel Dream, a remixed, remastered and reimagined version of the She's the One soundtrack.
The album is released to celebrate the 25th anniversary of the release of the original soundtrack.
When released in 1996, the She's the One soundtrack featured several songs which Petty had originally penned for his 1994 album Wildflowers, but which didn't make the final album.
Because four of those songs were included on the recently released 'Wildflowers and All the Rest' album, they have been omitted from 'Angel Dream'. In their place are four previously unreleased songs recorded during Petty's Wildflowers period. These include two originals ('105 Degrees' and 'One of Life's Little Mysteries'), an instrumental ('French Disconnection') and a cover of JJ Cale's 'Thirteen Days'.
The new album also features an extended version of 'Supernatural Radio'.
Ahead of Angel Dream's release, founding member of the Heartbreakers Benmont Tench told Sirius XM's Tom Petty Radio about the remastered and reimagined soundtrack album. "'She's The One' was originally a great way to include some of the songs that didn't make it on to Wildflowers, but it has its own thing to it, its own charm, and putting it out now in a restructured form makes for a sweet little treat," the musician said.
The audio for the album was remixed by Petty's long-term collaborator, engineer and producer Ryan Ulyate, who worked on the mixes with the singer/songwriter before his death in 2017. The songs were selected to resemble a Tom Petty and the Heartbreakers album as opposed to a movie soundtrack.
Speaking about the new album, Petty's widow Dana said "These songs are extremely special. I am grateful this record is getting the recognition it deserves. The remix Ryan Ulyate did sounds amazing, and the unreleased gems are a lovely bonus."
Named after the Bruce Springsteen song of the same name, 1996's She's the One was a romantic comedy written and directed by Ed Burns. The film saw Burns cast himself and actor Mike McGlone as a pair of Irish-American siblings in New York who contend with various romantic travails. It boasted Cameron Diaz and Jennifer Aniston, then just breaking into movies via her small screen success with Friends, among its cast. The film was largely dismissed by critics and audiences on its release, but Petty's soundtrack album was embraced by his fans, who will no doubt be excited for this new version.