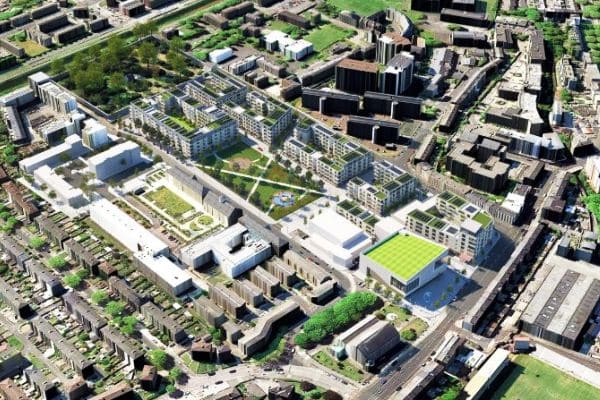 The Housing Minister has been heavily criticised by one of his own colleagues at the launch of long awaited regeneration plans for Inchicore in Dublin. There are proposals to build 470 units at St Michael's Estate as part of a new Cost Rental scheme.
There were awkward scenes as Eoghan Murphy launched the proposal for Emmet Road with his colleague Catherine Byrne announcing that she's against it.
Some of the properties will be social units while others will be up for rent at affordable prices.
Dublin City Council would have to give its approval for the 470 units so it's in their hands whether its given the green light or not. But local Fine Gael TD Catherine Byrne says many locals still won't be able to afford it:
"I cannot support the plan as proposed as I believe that the size and scale of this project represents over-development of the site and brings little in terms of badly needed facilities and amenities to the neighbourhood, which are key to making this project a success.

"I don't believe the former St Michael's site is an appropriate choice for such a large scale development piloting the cost rental model.

"The vacant 12 acre site of the former St Michael's Estate is a prime location and has great potential to provide world class housing for people who want to call Inchicore their home. Regeneration projects and Public Private Partnerships came and went during the Celtic tiger years and the recession which followed, and the site remained vacant. Dublin City Council has had years to come up with a new, innovative masterplan for the development of the former St Michael's Estate site, but after listening carefully to what has been presented today, I am hugely disappointed that it appears to be just a newer version of what has gone before and is wide of the mark in terms of what is needed and wanted locally.

"I also listened carefully to the proposal put forward by St Patrick's Athletic in April of this year, which includes a 12,000 seater stadium as well as shops and housing to the rear of the site. Their plan has potential but could also be seen as over-development.

"As outlined today, the Department of Housing and Dublin City Council have chosen to proceed with a large scale development based on a cost rental model with 70% of the units being offered under this scheme and the remaining 30% being social housing. I understand that cost rental has emerged as the preferred model going forward but I don't believe it is the right option for this development. I am also disappointed at the lack of affordable housing for purchase, with just a possibility of 10% proposed at this stage. Affordable housing gives young people on modest incomes, who don't qualify for housing supports, the opportunity to get on the property ladder.

"Inchicore, the community where I have lived all my life, is a fantastic place to live. I know many people on modest incomes who want the chance to own their own home here, who see Inchicore as somewhere they can put down roots. They want to get involved in the community; to live here, to shop here, go to school here, socialise here. To make this a reality, we need better services and amenities on our doorstep.

"Unfortunately, like many communities, Inchicore has its share of problems. The village has suffered from a lack of investment over the years. It is largely void of shops and cafes which would attract people to spend time there. We have no bank, a large number of fast food outlets, and too many vacant units. Crime and antisocial behaviour are serious issues facing our community at present and must be addressed before a huge new housing development gets underway.

"Yes, we urgently need more housing, and Government is working to deliver on this, but bricks and mortar are only one part of the solution. For me and many local residents, the proposal on the table for the former St Michael's Estate site is simply the wrong one if it doesn't include an option for long term, permanent housing, alongside amenities and services which would benefit the community as a whole.

"What we have seen today is an outline plan which is at the early stages with no design or planning permission in place. I hope that the planned public consultation will take into account the views of the local community. There is still time to get this right", concluded Deputy Byrne.