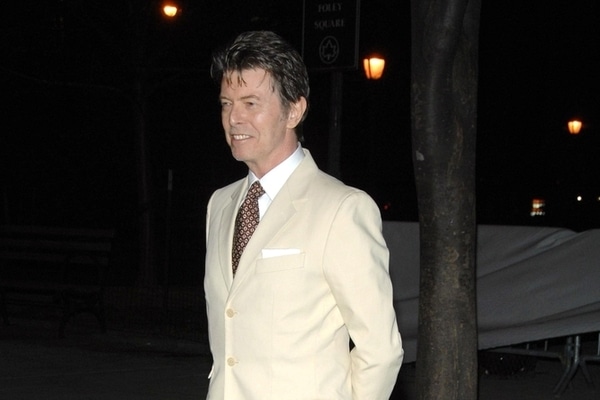 London and New York are to host David Bowie themed pop-up stores ahead of what would have been the artist's 75th birthday.
The estate of the late singer is planning a year-long "Bowie 75" celebration, revolving around his 75th birthday on January 8th, 2022.
Opening on October 25th (exactly 75 days before Bowie's 75th birthday) and running until late January will be a pair of pop-up shops in the UK and US's largest cities.
The London store will be located at 14 Heddon Street, which is where Bowie was photographed for the album cover of The Rise and Fall of Ziggy Stardust and the Spiders from Mars'.
In New York the store will open at 150 Wooster Street, close to Bowie's former NYC home.
According to a press release the stores will offer fans "a unique and immersive career-spanning deep dive into the sound and vision of David Bowie."
Both stores will be equipped with immersive audio and HD video screening rooms (in partnership with 360 Reality Audio), giving visitors a unique opportunity to experience Bowie content in such an environment.
Hours of video footage – including never seen before behind the scenes footage and clips from Bowie's Heathen and Reality eras – will be available for viewing.
The stores will also feature gallery installations featuring exclusive fine-art photography that documents Bowie's many artistic phases.
Interactive activities include the ability for fans to be pictured in Bowie's iconic costumes to create social media posts.
Intimate special guest events are set to be announced at a later date.
Of course, there will be plenty for fans to splash their cash on, with new Bowie merchandise on offer along with limited edition LPs and CDs from the Warner/Parlophone Records and Sony catalogues.
"We want our spaces to be engaging and exciting, bringing new concepts and brands which complement the destination and give people new reasons to come to London's West End," said a spokesperson for the pop-up spaces. "This pop-up is not only an opportunity to build on Heddon Street's history, as the location of the album cover shoot for The Rise And Fall Of Ziggy Stardust And The Spiders from Mars, but a really interactive, creative approach to retail."
It's rumoured that the celebrations around Bowie's 75th birthday may include the release of an unheard album.
It was recently announced that Bowie's "lost" 2001 album Toy will finally be released in January 2022. The album, which consists of reworked versions of early Bowie tracks, was shelved due to a dispute between Bowie and his then label Virgin.
November 26th sees the release of Brilliant Adventure, a mammoth boxset covering the 1992-2001 portion of Bowie's career.
Celebrate 75 years of David Bowie with pop-up experiences from 25 October in LONDON'S HEDDON STREET and NEW YORK'S WOOSTER STREET. For store hours, events calendars and information, sign up and stay tuned to: https://t.co/ksC9uj4Hc1 (See Linktree in bio for full PR) #Bowie75 pic.twitter.com/Yv85GgJUUT

— David Bowie Official (@DavidBowieReal) October 13, 2021