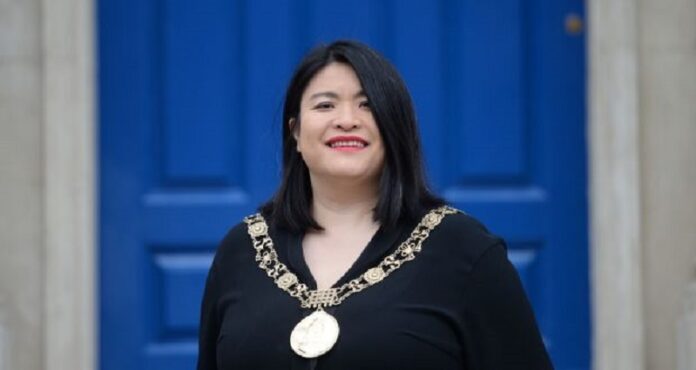 It has been revealed that that the Lord Mayor of Dublin, Hazel Chu has been harassed by far right protestors.
Chu, born in Dublin to Chinese parents has been subjugated to much abuse online and now the abuse has carried out onto the streets.
Per the Irish Examiner, a group of far right protestors showed up at her home and challenged her for wearing a mask.
Five people congregated outside her home and one had a sign saying "Our Lives Matter" a play on the Black Lives Matter movement, which Chu supports.
"I didn't think my life was in danger but it was deeply uncomfortable" Ms Chu said.
"They've been calling for my resignation since I spoke about the shooting of George Nkencho. A woman stopped me and stuck her hand out, touching my body, and said: "pleased to meet you."
"I said I couldn't shake her hand because of Covid, and then I realised someone was filming me.
"I kept thinking, 'just get back to the door', when two of her mates surrounded me on either side and started questioning why I was wearing a mask."
She added "I edged towards the door and when I got there one shouted: 'Hazel Chu, you're going to turn into a shapeshifting dragon someday and we're going to catch it on camera'. It was bizarre."
Fortunately, Chu's young daughter, Alex was in creche at the time of the incident.
"I'm in a weird in-between place because everyone knows where I live. Not being able to leave my house for lunch is inconvenient, worrying about my child is more than inconvenient. Your job shouldn't make you worried about your family's safety."
She went on to add "It's not about my policies because no other Green Party rep is being protested."
"If it comes down to one thing – you don't like a woman of colour in this office – then we have a huge problem. We have a vocal minority in this country we have to tackle."
"Is it going to be that we wait for something really bad to happen and we say, 'okay, we'll address it' – and then it's too late? Look at Jo Cox, there has to be more done."
It was revealed that up to 30 people were involved in the protests. Gardaí confirmed that one woman was arrested and issued a fine because of the attack.
There has been a rise in far right protests in Ireland recent times. Many have occurred during the pandemic with false claims that masks don't work and that the main stream media is the virus.
Of course, this is false and stupid. Believing conspiracy theories is a dangerous thing, as we saw five people lose their life in the insurrection that took place in the US capital this month.
Photo Credit: Alan Betson