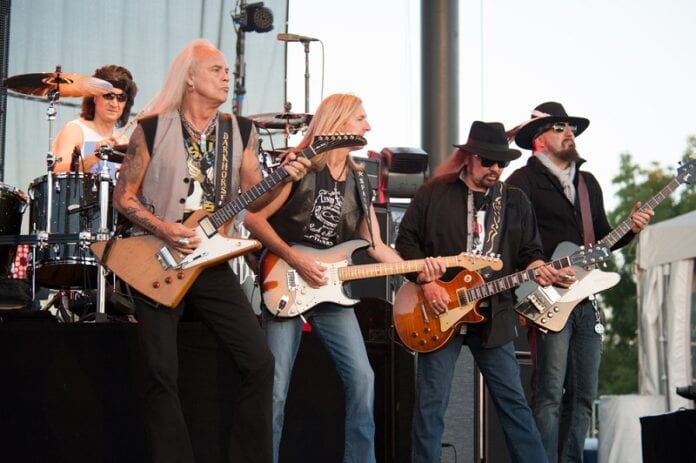 Lynyrd Skynyrd have cancelled and postponed several upcoming concerts after it emerged that their guitarist Ricky Medlocke tested postive for Covid-19.
Medlocke's positive Covid test comes after it was reported last month that fellow band member Gary Rossington also had to undergo emergency heart surgery last month.
Rossington himself is also the only remaining member of the orginal band. Guitarist Ed King passed away in 2018, while founding bassist Larry Junstrom passed away a year later.
Johnny Van Zant is the younger brother of the late original vocalist Ronnie.
Lynyrd Skynyrd statement on "Unforseen circumstances"
"Longtime band member Rickey Medlocke has tested positive for COVID-19″, the band said in a statement via Facebook. They also added, "Rickey is home resting and responding well to treatment. We will continue to update you on his condition".  
The band said that they will not play their upcoming shows in Ohio, Alabama or Missouri. They have also postponed their show in Atlanta, Georgia for August 13. A new date has been set for October 23.
The band are currently on their "Last of the Street Survivors Farewell Tour".
Beginning in 2018, the shows were to run through 2020. But they had to be put on hold due to the pandemic.
Back in June, the band also played in front of a crowd at the Pepsi Gulf Coast in Panama City Beach. This was the band's first show in 18 months, with Gary Rossington previously saying that the pandemic had turned everyone's "world upside down".
And since that time, we have been talking amongst the band, and realized that music has such a way of healing", he added. "Maybe it's not our time to go. And maybe it's our time to lift people's spirits and lives and bring back some joy and happiness after so much turmoil this past year. We're still standing, still keeping the music going".
Find out more as well as footage of that Lynyrd Skynyrd live performance here.