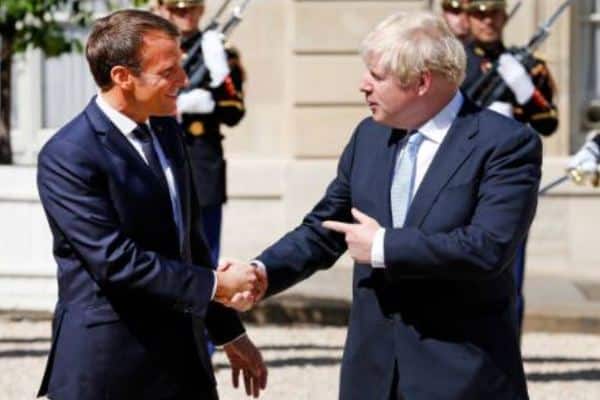 Emmanuel Macron has said the backstop is not just a "technical mechanism, but it is vital to protect stability in Ireland." The British PM Boris Johnson is in Paris for talks on Brexit with the French President Emmanuel Macron
After meeting the German Chancellor last night – today Boris Johnson is holding the next stage in talks with the French President. Emmanuel Macron said that the backstop has been negotiated, and it's an important element of the agreement that guarantees stability in Ireland, and the integrity of the single market.
But Mr. Macron recognises says that it's up to the UK to decide it's own fate "I've always been clear – a choice was made, and we cannot just ignore it. We'll have to implement the decision taken by the British people – I want to be efficient, and I very much want all of us to find a solution.
"That being said, I have to be very clear: we will not find a withdrawal agreement within 30 days which will be very different to the existing one.
He added: "If what Michel Barnier has negotiated can be amended while complying with the integrity of the single market… then we can find a solution.
"If not, it's probably a political decision for the prime minister – it will not be our decision."
Mr. Johnson stated that he understands the EU's desire to protect the integrity of the single market.
But he thinks that can be protected, while allowing the UK to leave, and there's no point in waiting around:
"A great deal of work has already been done to ensure a smooth transition on 31 October.
"We want to do all the necessary work on both sides to prepare for Brexit.
He again reiterated that Britain will not impose restrictions or a hard border.
"Under no circumstances will the UK government be instituting or imposing checks or controls of any kind at [the Irish] border."
President Macron says we will not find a Withdrawal Agreement within 30 days that will be very different to the existing one – that's after Angela Merkel challenged Mr. Johnson to find an alternative in that time frame.