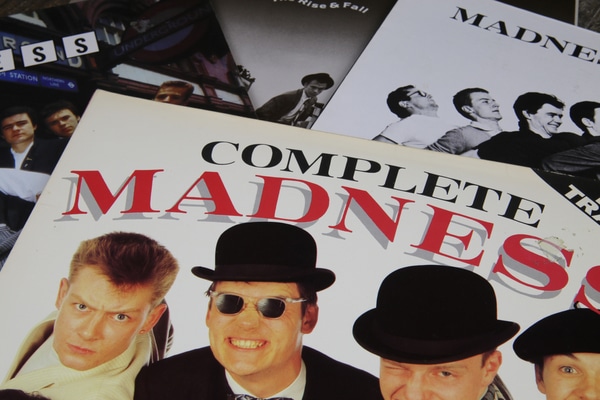 The members of 80s ska band, Madness have revealed their somewhat blotted past in a new documentary on the group. Now recognised as one of the biggest ska bands to come from the UK, Suggs and the gang could have ended up on a more different, crooked path.
Before We Was We chronicles the rise of the Camden ska legends, who have released 12 studio albums since forming in 1976. Before a massive 25 tours and a string of hits, including 15 top 10 UK singles, Suggs and the gang lived a life of crime. Following multiple arrests and other misdemeanours, the huge success of Madness gave the gang a chance to live a proper life.
Speaking in the three-part AMC UK documentary, Madness frontman, Suggs, real name Graham McPherson, reveals he had been arrested for affray in his teens. The singer was also known for a bit of graffitiing and is where he got his nickname from. In the doc, the 60 year-old describes being in the band as "like an extension of being in a gang".
"Apart from the fact it wasn't just us smashing up phone boxes and kicking traffic cones down the road together," said the Madness frontman. "It was at a crossroads. A lot of those people we knew at that time did get into serious crime. We were all a little bit involved in that sort of thing and graffiti was the first thing. Music was a huge step in the right direction."
Forming as The Invaders in 1976, Madness had breakthrough success with singles One Step Beyond, from their debut album of the same name, and My Girl. However, before they reached their newfound fame, many of their lives looked destined for disaster.
63 year-old saxophonist, Lee "Thommo" Thompson had been called to court at the age of 11 on accusations of burglary. He and a friend broke into Lynsey de Paul's house and filled up on Sugar Puffs and Corn Flakes!
Thompson was also involved in incidents with songwriter and keyboardist Mike "Barso" Barson and guitarist Chris "Chrissy Boy" Foreman. The future Madness members stole up to 300 pop records from a shop in Camden. Lambretta scooters and Sellotape rolls were also on agenda, before Thompson ended up at reform school. The saxophonist jokes, "Even my dad had given up sticking up for me. He probably thought, 'You've got to wake up now'."
Mike Barson had been sent to prison at the age of 18 after the keyboardist was caught by police smashing long, neon bulbs with his friend. Because the pair had been stopped on numerous other occasions, "the judge decided he was going to make an example of us".
Madness went on to have 15 singles reach the UK top ten, which include One Step Beyond, Baggy Trousers and It Must Be Love. They had one UK number one single in House of Fun, which also reached number one in Ireland, along with Wings of a Dove, with Our House their biggest US hit.
Before We Was We highlights the band's meteoric rise to fame, from setting up Madness, to selling out stadiums. According to a press release, each hour-long episode features original footage, as well as new interviews with band members past and present. The documentary airs at 9pm on May 1st, exclusively on the AMC channel on BT TV.