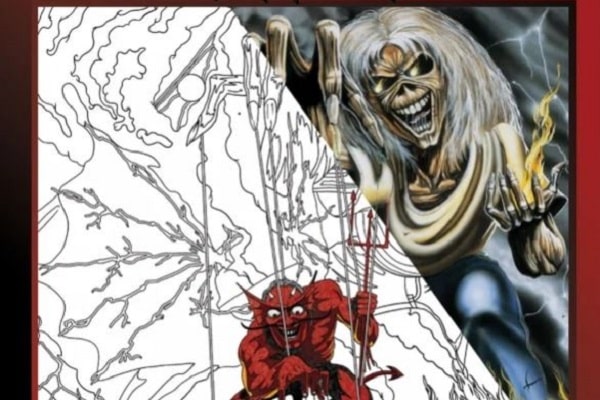 With only 54 days left until Christmas, shoppers worldwide will be scrambling to gather up their final stocking fillers. Fear not, as Eyesore Merch have teamed up with Iron Maiden to ensure that this year's shopping will be a breeze.
The merchandise store has announced they are set to release the Official Iron Maiden Colouring Book, published on December 6th. This colouring book is set to captivate fans for the merry celebrations as they complete 25 classic album covers and other images.
With all images licenced and endorsed by the band, and printed on high quality paper, this is the latest addition from UK independent publisher Rock N' Roll Colouring. Get creative with iconic artwork and instantly recognizable images in a square format for many hours of satisfying colouring in. The book encourages you to celebrate every detail of Maiden's iconic imagery, letting your imagination run riot as you create your own personalised versions of your favourite Maiden designs.
Including artwork from legendary albums such as Piece Of Mind, Powerslave and The Number Of The Beast, plus Maiden's glorious recent albums The Book Of Souls and Senjutsu. Get ready to unleash your artistic skills using pens, pencils, or paint on these artistic metalpieces.
Channel your inner creativity and add your own interpretations of these classic images or, simply recreate them as closely as you can to the originals. Whatever you decide, the satisfaction of adding your personal touch to these classic designs is extremely rewarding.
Devised and created by two lifelong rock and heavy metal devotees and colouring book fans, Rock N' Roll Colouring was formed by fans for fans. This colouring book has yielded every effort from its creators to do justice to the legacy of Iron Maiden, and their iconic figure, Eddie.
Each piece has been painstakingly re-created to mimic some of the most famous heavy metal images of all time. Maiden fans are sure to be delighted with this gift on Christmas day, getting the best creative experience possible.
The Iron Maiden book follows on from the previous Rock N' Roll Colouring releases from Alice Cooper, Motörhead, Judas Priest, Thin Lizzy and, Megadeth. With proven, significant mental health benefits including mindfulness, relaxation and increased focus, these books provide hours of creative and restful activity in combining the love of the music with the love of the art. Order yours from the Eyesore Merch store today, and skip the disappointment of missing out on one of the best Kris Kringles.