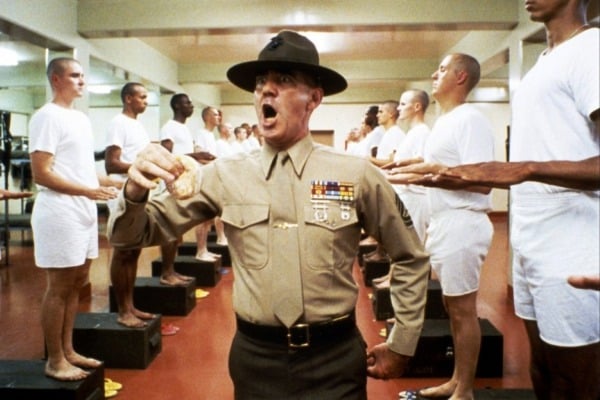 "What is your major malfunction, numbnuts? Didn't Mommy and Daddy show you enough attention when you were a child?" Quote – Gunnery Sergeant Hartman – Full Metal Jacket.
The actor best known for his role as Gunnery Sergeant Hartman in Full Metal Jacket has died.
R Lee Ermey's manager says the 74-year-old passed away from pneumonia-related complications yesterday. The retired US Marine appeared in around 60 films, often in military-related roles.
A talented character actor, Ermey was in the US Marine Corps for 11 years. He rose to the rank of Staff Sergeant, and later was bestowed the honorary rank of Gunnery Sergeant by the Marine Corps, after he served 14 months in Vietnam and later completed two tours in Okinawa, Japan.
After injuries forced him to retire from the Corps, he moved to the Phillipines, enrolling in the University of Manila, where he studied Criminology and Drama. He appeared in several Filipino films before being cast as a helicopter pilot in Francis Ford Coppola's Apocalypse Now in 1979.
His most famous (or infamous) role as Gunnery Sergeant Hartman in Stanley Kubrick's Full Metal Jacket in 1987, saw him nominated for a Golden Globe. He won best supporting actor award from The Boston Society of Film Critics.
Since then, he appeared in numerous character roles in such films as Leaving Las Vegas, Se7en and Dead Man Walking all from 1995.