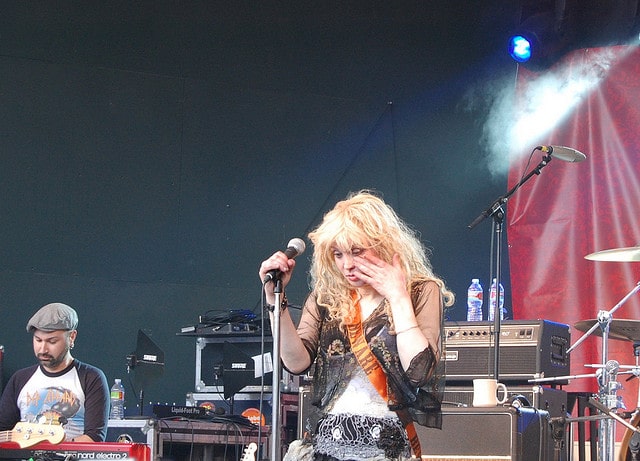 To reunite or not to reunite, that is the question Courtney Love has been pondering over for the past few years.
The conundrum facing Love, regards reuniting with the original lineup of her band Hole.
Courtney has flip flopped on the issue over the years but now she has stated that the band need to record "music that's relevant to now" with a "modern producer".
Love has long teased the idea of the band getting back together with the original line up, Melissa Auf der Mar, Eric Erlandson and Patty Schemel. The band initially broke into the mainstream with the single Celebrity Skin in 1998, receiving four Grammy nominations.
Earlier this year, while on tour with Hole guitarist Eric Erlandson, Love dismissed a Hole reunion, stating that her solo endevours were the stumbling block. She claimed she didn't want to become part of the, "oldies circuit" and that "it's scary not to be selling out."
However, In an interview with Paper Magazine, she clarified the Hole situation, stating that there still may be hope for a reunion. "It's more important for me to act right now than to play rock'n' roll. Me and Melissa and Patty and Eric have rehearsed a few times," Love said.
Love commented that before any reunion could be considered, certain changes would have to take place. "We have to make some music that's relevant to now, and we'd have to get a modern producer. My relationships with Melissa, Patty, and Eric are all great. At this point in my life, no one is my enemy. Any grudges or issues with that past? I'm done with it."
Courtney is currently co-writing her tell-all biography, but all is not well, she has described the writing process as a 'disaster'.
Love's biography titled, The Girl With The Most Cake, has repeatedly been pushed back since it was announced. Things are so uncertain with the publication, that no release date is even set for the book anymore.
Speaking with Paper magazine, Love explained that the main stalling point for the book was her ghost-writer. "It's just not working, it's a disaster… a nightmare, I never wanted to write a book, it just happened," Love said.
I'd be very curious to hear how her co-writer has found the experience of working with the infamous Courtney Love.