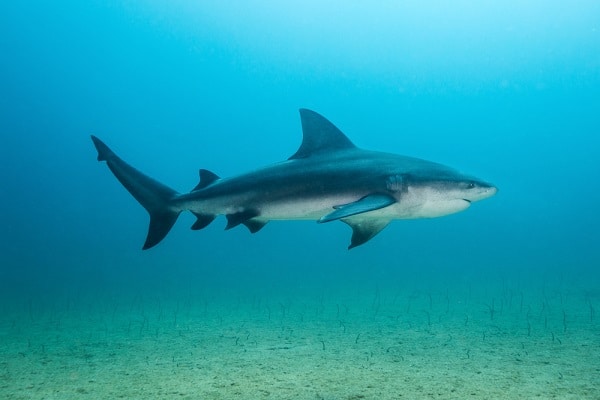 A man has reportedly spotted a bull shark swimming by his back garden after super storm caused flash flooding in south-east Queensland, Australia. The Bureau of Meteorology in Queensland issued a severe thunderstorm warning for the state yesterday which resulted in severe flooding.
The man from the Gold Coast posted a picture of the shark's large and small dorsal fins sticking above floodwater, just metres away from his back garden. Burleigh Waters, the man's hometown, is a canal-side southern suburb of the city. The canals had overflown, causing floodwaters to breach the back fence and enter the man's garden.
The man shared the photo on Facebook with the caption; "Another wild day on the Gold Coast! Bull Shark in the backyard at Burleigh Waters."
Many people have commented on the photo but, there are a lot of mixed views as to whether the picture is in fact real, or photoshopped.
One man said, "North QLD get crocs, the Gold Coast gets bull sharks. This little guy at Burleigh Heads is enjoying his new pond."
Others saw the funny side of things with one person writing, "How did it get there? Clearly Sharknado."
But others were not as convinced and believe the image was either not of a shark or just some creative photoshopping.
"Looks like a Palm frond floating on its side. Look at the 'tail' end," one man wrote.
Another man wrote, '"Photoshopped, no water trail behind it."
"I reckon it's a photoshop. One crops up every time we have a flood. It's unusual to see a bull sharks up the top," another woman said.
But one woman disagreed, arguing it was plausible: "The rivers here are full of sharks and the rivers are also connected to the ocean. Makes sense we'd see them active when the waters are their ideal muddy/murky and there's new areas for them to explore."
Storms and heavy rain have battered the coast over the last few days and the floods have already seen a casualty on Wednesday night. A man was killed in the southern Queensland town of Killarney, after water had swept him and his car downstream.
Queensland police say initial investigations indicate the 69-year-old was moving cattle to higher ground on Condamine River Road, when rapidly rising waters rushed in, consuming him and his car.
Emergency services were called to the scene and immediately commenced a search and rescue operation. Police say the man's body was discovered inside his vehicle about 100 metres downstream just after midnight.
There have been many reports of sharks coming closer inland of late. Just weeks ago, a man died after being attacked by a shark in Western Australia state. Police shot 25 bullets at the shark before it casually swam away, never to be seen again.